SACRED & DELICIOUS
Food • Health • Spirituality
Archive for the 'Vegetarian Recipes' Category
I love this Spiced Pumpkin Pound Cake. It's a way to enjoy the holidays without getting a sugar high that's followed
by the inevitable sugar crash! This cake is wonderfully moist but not overly sweet, and it's won rave reviews wherever I take it.
So, if you want to add something unexpected to a holiday feast, try this gluten- and dairy-free dessert that is sure to please, alongside the traditional pies. We enjoy it plain, but you can dress it up with a sweet glaze or sprinkle some maple sugar crystals on top once it has cooled.
I typically sweeten the batter with coconut sugar, because it has a much lower glycemic index and calorie count than either white sugar or maple sugar. Of course, maple sugar is lighter in color, and for that reason I wish I had baked this cake with the maple for a photo as it would likely be more aesthetically appealing to the American consumer's eye! Maple sugar has some additional nutrients, compared to coconut sugar, and Ayurvedic expert Dr. Vasant Lad says that maple products (syrup or sugar) are "strengthening." Here's more on maple vs. coconut sugar. Either way, you'll have a delicious cake that won't last long at your holiday buffet!
If you're new to the Sacred & Delicious Blog, you can also find some recipes for wonderfully delicious, traditional, healthy Thanksgiving side dishes right here.
Finally, I'd like to acknowledge the trauma and deeply troubling problems that millions of Americans face going into this holiday. First, I offer my condolences and join in grief with thousands across California who are suffering from the destruction wrought by the horrifying fires and their aftermath. Thousands more are still recovering from the loss of homes during the devastating hurricane season. For many, such events may preclude the niceties of baking cakes and pies and the joyful cooking of a traditional Thanksgiving meal. Still, millions more across our country suffer from chronic unemployment, underemployment, and poverty, finding such festivities impossible unless they are able to get to a soup kitchen. For those of us who are able to revel in the abundance of the holiday season, may we always make space in our hearts and at our tables for those who are less fortunate.
Wishing each of you a sweet Thanksgiving filled with all the traditions that bring you joy!
Lisa J. Mitchell
SPICED PUMPKIN POUND CAKE
Preparation time:  About 3.5 hours (1 hour active)
Serves 8 to 12
For the Cake:
4 large eggs
2 cups pumpkin purée from 1 small sugar pumpkin (2-3 pounds)
10 tablespoons ghee
1½ cups sifted Bob's Red Mill Super Fine Almond Flour
1½ cups oat flour
¾ teaspoon xanthan gum
2 teaspoons baking powder
1 teaspoon baking soda
1 teaspoon fine ground Celtic Sea Salt
1½ teaspoons ground cinnamon
1 teaspoon ground allspice
1½ cups coconut sugar
1½ teaspoons vanilla extract
For the Glaze: (optional)
1 cup maple sugar crystals
1 tablespoon real maple syrup
2 tablespoons plain unsweetened almond milk
½ teaspoon vanilla extract
Pinch salt
1. Remove eggs from the refrigerator 1 hour or more before assembling the cake so they can warm to room temperature.
2. Prepare the pumpkin: Adjust the oven rack to the lower-middle position, and preheat oven to 425˚F. Cut the pumpkin in half and scoop out the seeds. Cover the bottom of a 9×12 (or larger) baking dish with a piece of parchment paper. Place the pumpkin halves with the flesh down on the paper, and cover with foil. Bake for 1 hour or until the pumpkin flesh is completely tender when you poke it with a fork. Let it cool. Scoop out the flesh and purée all or part of the pumpkin in a food processor. Check to make sure there are no lumps, and if you find any, pulse again until completely smooth. Move purée to a strainer and strain over a mixing bowl while you're making the cake batter. (Note: if you skip this step, your cake will be delicious but overly moist.) Measure out 2 cups of purée, and set it aside for the cake.
3. Make the batter: Grease a 10-inch (3 quart) nonstick Bundt or tube pan lightly with ghee. Then lightly flour the pan, inverting it to tap out excess flour. Preheat oven to 350˚F.
4. Whisk together flours, xanthan gum, baking powder, baking soda, salt, and spices in a mixing bowl. Set aside.
5. Whip the ghee in a separate large mixing bowl with an electric mixer for about 2 minutes. Add the sugar and beat well. Add the eggs, one by one, beating briefly on a low speed after each addition. Add the vanilla, and mix.
6. Using a spatula, fold the pumpkin purée into the egg mixture and stir until completely mixed. Then, fold in the flour and spice mixture. Mix until the batter is just smooth. Spoon the batter into the pan and smooth the top.
7. Bake 50 to 55 minutes or until a wooden pick or skewer inserted into the center of the cake comes out barely clean. Let cool two hours in the pan; then invert the pan onto a rack and let the cake cool completely before slicing. Cover the cake in a domed container but do not refrigerate. Keeps for three days.
8. Make the maple sugar glaze (optional): Grind maple sugar in Vitamix or professional quality blender to a powdery texture. Combine glaze ingredients in a small mixing bowl, and beat at medium speed with an electric mixer. Drizzle over a cooled cake. Let the glaze set at least 30 minutes before serving.
Cook's Tip:  Bake the pumpkin the day before.
Ayurvedic Notes: Almond and oat flour have some additional nutritional value (compared to gluten-free mixes) and both are easy to digest. Both do, however, increase kapha somewhat, as will sugar of any kind. As mentioned above, coconut sugar has a lower glycemic index and calorie count than maple sugar, but maple is said by Ayurveda to be strengthening to the body. Pumpkin is fine for all doshas, in moderation, as are the spices, making this a good dessert choice on occasion. This cake is made with almond milk as a dairy substitute, as milk and eggs are considered an unhealthy combination. Without the glaze, this is also a low-sugar recipe, making it a fine dessert when eaten in moderation.  Enjoy it with the glaze for a special occasion!
Ayurveda's common-sense dictum is that opposite qualities balance one another—whether in the body, the mind, or the emotions. So, to quell the last of the summer heat, I call for balance and say, "Bring on the cucumbers!"
In this lovely summer soup, the cooling power of cucumber is augmented by coconut milk, cilantro, and mint, all which cool the metabolism even further. Fresh ginger, cumin seeds, black mustard seeds, and lime all aid digestion besides being richly flavorful. They are also warming foods, which bring balance to the dish for vata and kapha types, who tend to be cold natured.
Ayurveda identifies the healthiest meal as one that provides all six tastes in one sitting. Those six tastes exist in this one very simple dish: Read More
I tasted this scrumptious cauliflower dish at The Well Fed Community Garden in Raleigh in late May when Arthur Gordon, of Irregardless Cafe fame, created the dish on the spot! He gathered up whatever looked fresh and interesting at the farmer's market along with herbs growing in the community garden and—voila!—came up with this amazing dish! I've adapted it only slightly to serve eight instead of eighteen and made it a tad milder so it doesn't bring on more heat in this sweltering summer.
The complete dish is a cauliflower "steak" that is rubbed down with a mixture of fresh herbs, roasted or sautéed, and topped with a red pepper cashew sauce. The first time I made this myself, I ran out of time and served only the first part of the dish, pictured here— Read More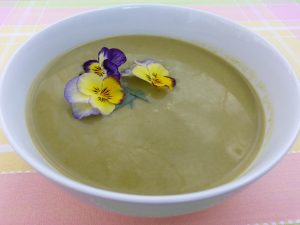 Despite the dismal weekend forecast, organic asparagus are popping up everywhere in gardens and stores, so what better time to make a steaming pot of Easy Asparagus Soup!
Springtime in the South is such a tease:  it's 80 degrees in February, and then in April it snows. Or as anticipated on Saturday, there will be rain all day, keeping everyone inside during the first full weekend of April, and then the overnight temperature will dip to a wretched 32. Be strong, beautiful azaleas!
As the days warm up into the 80s here next weekend (and as cities further north and west will at least have a brief respite in the 50s), you might want to try a gluten-free Asparagus Pilaf with Quinoa or Millet or some Quick Sautéed Asparagus.
Enjoy these reprised recipes. In partnership with my publisher, I've been working full-time to finish production on my gorgeous new cookbook! I'll be back with another spring recipe this month, so stay tuned.

Lisa J. Mitchell
If  you love sweet potatoes, I have good news for you, along with an
easy and oh-so-delicious Southern-style recipe! And in case you've been following my blog and wonder why I cook with so many sweet potatoes, here's one reason why: according to Ayurveda, sweet potatoes are one of the best foods for grounding high vata — that light, airy, buzzing energy that you feel when life is moving just a little too fast. Read More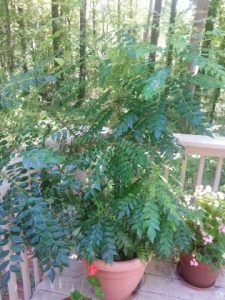 This curry leaf and cilantro chutney recipe comes from Vaidya Smita Naram.  She whipped up this lovely sauce in our Vitamix in about 5 minutes while recently staying in our home.  My husband, Tom, and I happily poured it over mung bean "burgers" I had made for dinner.  A few days later I prepared another cup of the chutney, which we used to top off savory chickpea pancakes that Dr. Smita showed me how to make a half-hour before we drove her to the airport for her flight home to Mumbai, India.
Chutneys are relishes or sauces that are staples in Indian cuisine. They are also used in Ayurvedic cooking when freshly made. There are innumerable kinds of chutneys — some chunky, others that are more like a paste, and liquid sauces.  Chutneys have a reputation for being amazingly hot to the tongue because most Indian cooks spike their chutneys with chilies. Not so with this recipe!  Authentic Ayurvedic cuisine avoids the use of chilies except for people who are predominantly kapha types. Nonetheless, this chutney is guaranteed to add a bolt of flavor to any dish along with potent healing power. Read More
Black-eyed peas and greens share a long tradition in the South as  the New Year's culinary messengers of  abundance. Being a Southern Jewish foodie, I'm proud to offer this uniquely gourmet approach to an old classic!
If you're looking for an elegant entrée to impress vegetarian or omnivorous guests on New Year's Day, try stuffing blanched red chard leaves with home-made black-eyed pea pâté and roasted winter squash; then smother the chard rolls with a luscious white wine shiitake mushroom sauce. Read More
Here's an easy-to-make, completely satisfying vegan Black-Eyed Pea Salad. Quick, delicious and healthy to boot.
Black-eyed peas are especially appreciated by
vegan and vegetarian cooks because the peas will be tender after boiling in about 30 minutes, unlike harder beans such as black beans and chick peas that take an hour or more to cook in a regular pot. With black-eyed peas you'll have a protein-rich main dish that you can build a summer meal around with very little labor—a gift to the cook on a hot summer night.
If you're too hungry to wait for the black-eyed peas to cool, no problem! This quintessential Southern food is equally appealing when eaten warm after it's just been cooked. Once the salad is chilled, it's an ideal dish to serve at your 4th of July picnic. Read More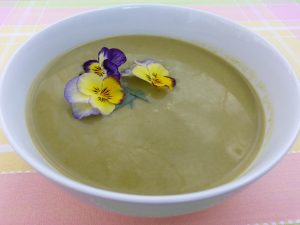 Magnificent spring! O, how we welcome your abundant blessings! For my toast to spring I offer you, dear readers, this easy asparagus soup recipe, a sneak-peek from Sacred & Delicious: A Modern Ayurvedic Cookbook.  It's still cool enough during these early spring nights to enjoy the warmth of  a delicate vegetable soup, though this is one of the few vegetable soups that I also enjoy at room temperature on a warm day.
When I initially crafted this recipe, my intention was to make a creamy soup, but the asparagus smelled so good before I added milk that I served it dairy-free and have ever since.  If you love dairy and are able to digest it, you can certainly add some real cream, say 1/4 to 1/2 a cup. Or add a swirl of whole coconut milk for a sensual flourish when you serve the dish to your grateful guests. Read More