If you want to plan an intensely flavorful vegetarian menu for Thanksgiving, look no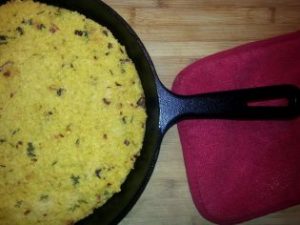 further! Today I'm sharing a recipe for Gluten-Free Millet Dressing. I'll also point you to my sumptuous versions of traditional American holiday side dishes, which will fill your family with joy and gratitude!
Why millet?  Millet is a good source of vegetarian protein. One cup of cooked millet offers 6 grams of vegetarian, gluten-free protein, which equals the protein in one egg. It's also filling, grounding and easy to make.
Now for the rest of the menu. My famous Holiday Sweet Potatoes, topped with a pound and a half of pecans, are the eagerly awaited crown jewel of our holiday table. For a dash of freshness and color I offer this cranberry salad, a squeaky clean, upscale version of the canned stuff that used to be served when we were growing up!
Print