A Gluten-Free Vegetarian Guide to Thanksgiving
If you want to plan an intensely flavorful vegetarian menu for Thanksgiving, look no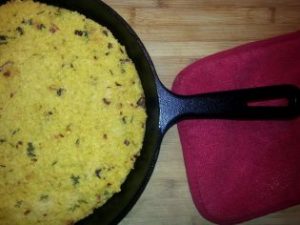 further! Today I'm sharing a recipe for Gluten-Free Millet Dressing. I'll also point you to my sumptuous versions of traditional American holiday side dishes, which will fill your family with joy and gratitude!
Why millet?  Millet is a good source of vegetarian protein. One cup of cooked millet offers 6 grams of vegetarian, gluten-free protein, which equals the protein in one egg. It's also filling, grounding and easy to make.
Now for the rest of the menu. My famous Holiday Sweet Potatoes, topped with a pound and a half of pecans, are the eagerly awaited crown jewel of our holiday table. For a dash of freshness and color I offer this cranberry salad, a squeaky clean, upscale version of the canned stuff that used to be served when we were growing up! Round our your plate with Pan-Seared Tofu to increase your protein intake and offset the sugary dishes. Add some Smoky Greens to balance the palate (and move all this food through your system)!
Ahhh….all this before your pumpkin pie.
The sweet potatoes, millet dressing, and cranberry salad are all very easy to make. Even so, you'll want to plan about three hours to make all of these and clean up as you go. For that reason, I've added two "Seven-Minute Sides," the tofu and greens, so you can wrap up your cooking day expeditiously.
Your best bet is to begin some preparations on Wednesday. At a minimum, I recommend that you cook a soup stock on Wednesday to flavor the dressing. It takes about 10 minutes to put together plus 45 minutes to an hour of cooking time, and time to cool so you can refrigerate it. If you're home Wednesday afternoon, you can also cook the millet and refrigerate it until the next day. Try baking the sweet potatoes Wednesday evening, and leave them in the oven to cool overnight.
If you save most of your cooking for Thursday, I suggest that you begin your morning by baking the sweet potatoes for 90 minutes, and when they're done, take them out of the oven to cool. While the potatoes are baking, you can cook the millet and begin the rest of the dressing recipe. Once you finish preparing the dressing, put it in the oven on 400 degrees to brown. While the dressing is in the oven, you can pick up where you left off with the potatoes: pull their skins off, mash them per the recipe, make the pecan topping and put it all together in a baking dish. If you're ready to serve dinner within a half-hour or so, add the potatoes to the oven now. If the dressing was done earlier in the day, reheat it now as well. During this half hour you'll have time to prepare the greens and tofu. Then voilà! It will all be ready to serve to your hungry guests.
Wishing you a very happy holidaiy with family and friends as you enjoy this vegetarian Thanksgiving menu…and may your hearts swell with gratitude for the abundant blessings in your life.
Print