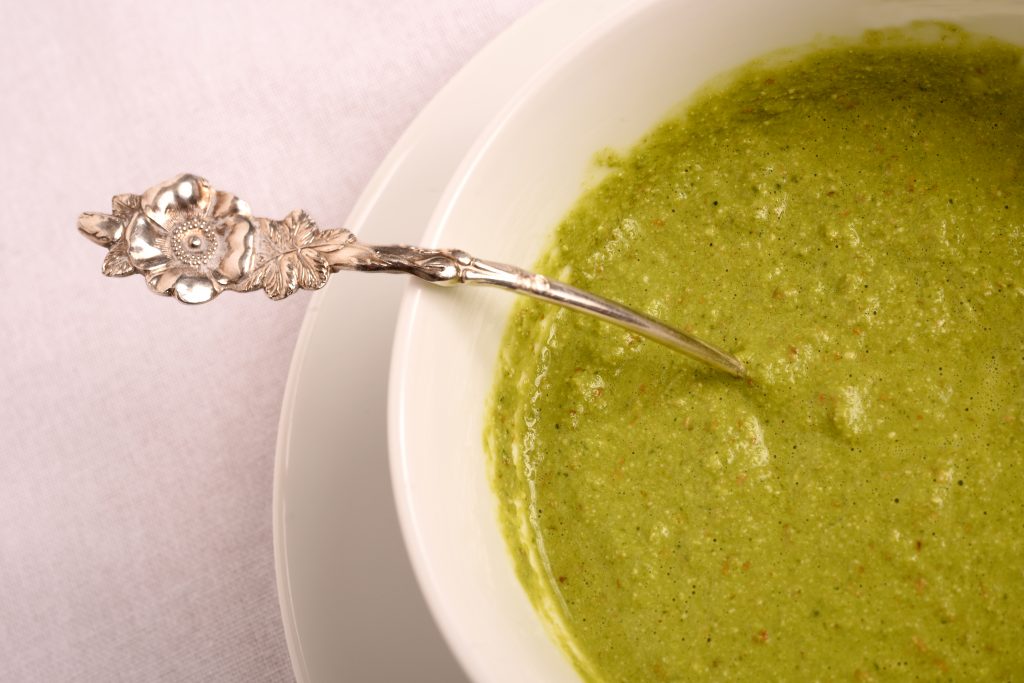 Photo by Roger Winstead
This curry leaf and cilantro chutney recipe comes from Vaidya Smita Naram.  She whipped up this lovely sauce in our Vitamix in about 5 minutes while recently staying in our home.  My husband, Tom, and I happily poured it over mung bean "burgers" I had made for dinner.  A few days later I prepared another cup of the chutney, which we used to top off savory chickpea pancakes that Dr. Smita showed me how to make a half-hour before we drove her to the airport for her flight home to Mumbai, India.
Chutneys are relishes or sauces that are staples in Indian cuisine. They are also used in Ayurvedic cooking when freshly made. There are innumerable kinds of chutneys — some chunky, others that are more like a paste, and liquid sauces.  Chutneys have a reputation for being amazingly hot to the tongue because most Indian cooks spike their chutneys with chilies. Not so with this recipe!  Authentic Ayurvedic cuisine avoids the use of chilies except for people who are predominantly kapha types. Nonetheless, this chutney is guaranteed to add a bolt of flavor to any dish along with potent healing power.
Print