SACRED & DELICIOUS
Food • Health • Spirituality
Archive for the 'Appetizers' Category
Ayurveda's common-sense dictum is that opposite qualities balance one another—whether in the body, the mind, or the emotions. So, to quell the last of the summer heat, I call for balance and say, "Bring on the cucumbers!"
In this lovely summer soup, the cooling power of cucumber is augmented by coconut milk, cilantro, and mint, all which cool the metabolism even further. Fresh ginger, cumin seeds, black mustard seeds, and lime all aid digestion besides being richly flavorful. They are also warming foods, which bring balance to the dish for vata and kapha types, who tend to be cold natured.
Ayurveda identifies the healthiest meal as one that provides all six tastes in one sitting. Those six tastes exist in this one very simple dish: Read More
A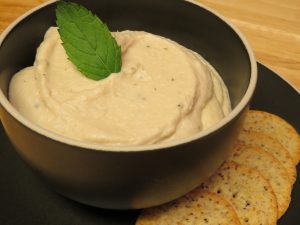 few days ago my husband, Tom, walked into the kitchen and asked if we had any white beans. I thought What on earth for? and then, more politely, asked, "Why?"
"Thought I'd make some white bean hummus." He smiled and assured me he'd get it started after golf, despite a 2:00 p.m. tee time. Although he has created some great dishes, this was not going to happen, I knew.
I said, "What if I make it instead?" Ask and ye shall receive! I must say, though, that it Read More