You Don't Have to Be Jewish to Love Kugel!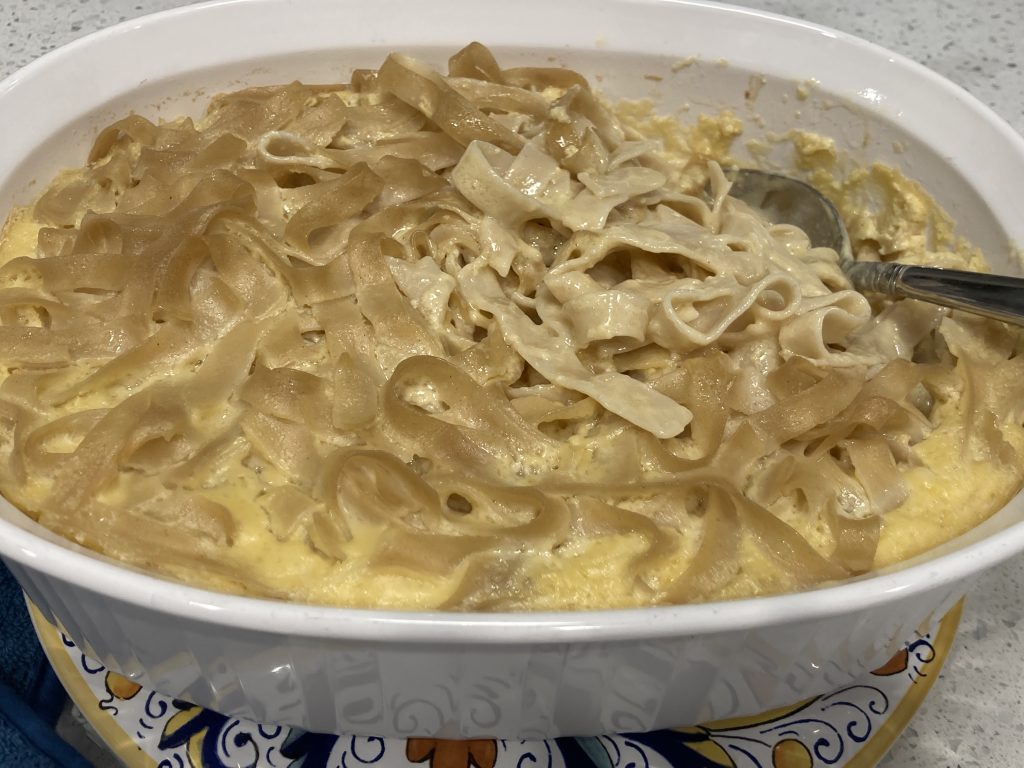 This year Labor Day and the first evening of the Jewish High Holiday season happen to coincide on September 6, which calls for celebratory food—like this utterly scrumptious Updated Noodle Kugel. Whether you're going to a Labor Day potluck or preparing food for Monday's Erev Rosh Hashanah family dinner, the beginning of the Jewish new year 5782, this dish will be a sure crowd pleaser.
I developed this recipe especially for my friends and readers who follow a gluten-free, lactose-free diet. And let's be honest: as I approached my birthday, I was craving favorite childhood dishes that I hadn't tasted since I went gluten-free! Yes, kugel is the star of many Jewish family birthday dinners. Traditionally, Jewish families bring out the kugel for every special occasion, whether for weekly Shabbat dinners or any and every holiday on the Jewish calendar.
What is this delicacy called kugel?
Kugel is a simple baked pudding made from noodles or potatoes and served as a side dish, even though it resembles dessert because of its rich sweetness. Although I cook and publish a lot of vegan foods, this dish is merely vegetarian because kugel without eggs loses its essential flavor. In modern times kugel has been made with egg noodles, eggs, white sugar, and sour cream. Some families also add raisins or currants and cinnamon to their dish. However, at our house kugel was served straight up without the fruit and spice, making it somehow seem sweeter. This is how I prefer it—surely because it reminds me of Mom.
To make this dish in a way that's healthier—not exactly healthy but healthier—for me and many of my readers, I waited until I found gluten-free egg noodles that don't fall apart when cooked. As soon as I spied Jovial egg pasta on the shelf at Whole Foods, I knew that one day I'd splurge and dig up my mom's favorite Kugel recipe. Jovial has perfected the texture of rice pastas and is reliably good.
Is kugel healthy?
Well, not so much if you're an absolute purist! Generally, I have concerns about rice products because of arsenic issues. However, when you cook a rice pasta, much of the arsenic contamination will be released into the water. After you strain the pasta and rinse it well in water, it will be much safer to eat.
In excess, any kind of sugar, even unrefined sugar, will be inflammatory. That said, Dr. Vasant Lad states that maple syrup is "strengthening" when used in moderation, so I opted for maple sugar, which is quite delicious. Although maple sugar is expensive, it is colored more lightly than coconut sugar, which makes this dish look like a traditional kugel without succumbing to refined sugar.
Eggs are considered a heavy food in Ayurveda, though many vegetarians count on eggs as grounding protein. I used coconut yogurt instead of sour cream to avoid lactose although all the vegan yogurts I've found have gums used as thickeners, which may contribute to ama, toxins.
For all the above reasons, I call this dish healthier comfort food! My policy is to splurge only on special occasions, and I count kugel as a comfort-food splurge. In other words, I won't be making it every Friday night!
If you want to treat your family to a totally yummy dish, try this Updated Noodle Kugel, which is delicious warm and fantastic leftover out of the fridge.
PS If you don't hear from me for a while, it's because I'm taking another, shorter hiatus as our kitchen is remodeled and updated.
Print