It's still spring so I'm not quite done with asaparagus! I present to you asparagus pilaf cooked two ways, both gluten-free.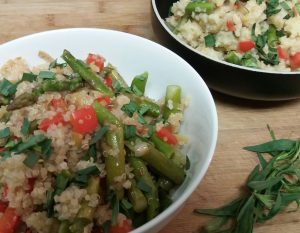 I've tried this recipe with quinoa and millet. Each dish is satisfying enough for a light meal, while they both work well as appetizing side dishes.
This pilaf is a colorful addition to the Passover table or Easter celebration. And a happy invitation to my observant Jewish readers—no guilt necessary! The rabbis have given their blessings to quinoa during Passover, and millet may not be far behind.
Print