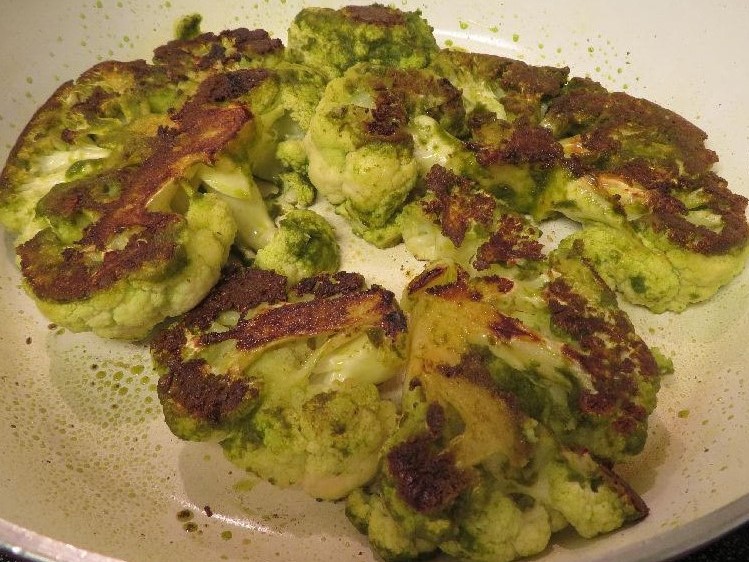 I tasted this scrumptious cauliflower dish at The Well Fed Community Garden in Raleigh in late May when Arthur Gordon, of Irregardless Cafe fame, created the dish on the spot! He gathered up whatever looked fresh and interesting at the farmer's market along with herbs growing in the community garden and—voila!—came up with this amazing dish! I've adapted it only slightly to serve eight instead of eighteen and made it a tad milder so it doesn't bring on more heat in this sweltering summer.The complete dish is a cauliflower "steak" that is rubbed down with a mixture of fresh herbs, roasted or sautéed, and topped with a red pepper cashew sauce. The first time I made this myself, I ran out of time and served only the first part of the dish, pictured here—cauliflower with herb rub. That alone was delicious! So, if you want a simpler dish to make for a July 4th bash, you won't be disappointed.
A third option, also simplified from the original, is to skip the marinade. You chop the florets, grill them (or sauté them in a little salted oil), and top them with the cashew sauce.
If you want to go the extra mile to impress your guests, I recommend making the full dish: rubbed cauliflower steaks with red pepper cashew sauce. The sauce is simple, and you can use it over any of your favorite vegetables. I've found it wonderful over grilled summer squash, plantains, and sweet potatoes—foods I like to see on a summer menu!
Finally, if you want to replicate Arthur's dish more precisely, you can add some hot sauce to the red pepper/cashew mixture. It's a flavor I always avoid, but I know many people love it!
Wishing you all the freedoms hoped for when our forefathers proclaimed their independence on July 4, 1776!
Print