Black-Eyed Pea Salad
Here's an easy-to-make, completely satisfying vegan Black-Eyed Pea Salad. Quick, delicious and healthy to boot.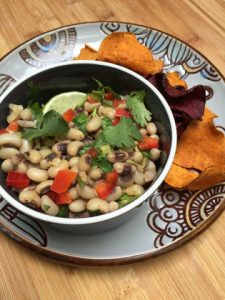 Black-eyed peas are especially appreciated by vegan and vegetarian cooks because the peas will be tender after boiling in about 30 minutes, unlike harder beans such as black beans and chick peas that take an hour or more to cook in a regular pot. With black-eyed peas you'll have a protein-rich main dish that you can build a summer meal around with very little labor—a gift to the cook on a hot summer night.
If you're too hungry to wait for the black-eyed peas to cool, no problem! This quintessential Southern food is equally appealing when eaten warm after it's just been cooked. Once the salad is chilled, it's an ideal dish to serve at your 4th of July picnic.
If you're attending holiday events with omnivorous friends and relatives, you can relish your protein and freedom of choice while they can enjoy black-eyed peas as a tasty side!
Happy Birthday, America!
Print