SACRED & DELICIOUS
Food • Health • Spirituality
Archive for the 'Soups' Category
If you or your kids plan to eat a lot of Halloween candy, then I highly recommend that you plan a pot of Mung Soup with Vegetables for the day after!
According to Ayurveda, mung beans are one of the healthiest foods on the planet and the  greatest source of vegetarian protein, because they're so easy to digest. This soup is made from whole mung beans, which have a scraping action. Translation: eating cooked mung beans will detoxify the body, specifically the colon, liver, kidneys, and the lymph system.
You can make a simple mung soup with a few spices and serve it with vegetable sides or, as I do, you can cook the soup with vegetables to make it a heartier dish. My preferences are Swiss chard and winter squash or a combination of chard, sweet potatoes, and zucchini.
I like to use a slow cooker, which can be invaluable for vegetarians and omnivores alike. There are, however, a few tricks that make a Crockpot® meal worth savoring. Instead of loading all the ingredients at the beginning of the cooking time—whether that's before you go to bed or before you leave for work—save a few specific steps for the last hour of cooking:
1. Warm powdered spices such as cumin, coriander, and turmeric in ghee or oil on your stove top and add them to the slow cooker about 15 minutes before serving. (If you leave spices in the cooker for 6 to 8 hours, they can actually burn … says the voice of experience.)
2. Also add any fresh herbs in the last 15 minutes.
3. Steam any vegetables 10 to 15 minutes before finishing the soup—and, to add to the flavor, you can do this with salt, ginger, and (optional) garlic. If you prefer, you can add greens such as kale or chard, in the beginning. Other vegetables, particularly squash or sweet potatoes, tend to get too mushy if cooked all day.
4. If you're adding chopped onion, about 30 minutes before serving slowly brown the onion in ghee or oil until it caramelizes. (If you use shallots instead, they will brown in 10 minutes.) This additional step will infuse your final dish with a layer of flavor that you just won't get by cooking onion in water or stock all day.
You can apply these tips when you cook this hearty mung soup recipe. If you prefer, and if you have the extra time at home needed to cook the beans in a regular soup pot, you can make this as a one-pot dish. I make this hearty soup once a week on an ongoing basis because it helps to keep the digestive system clear. When mung soup is served during panchakarma (Ayurvedic detoxification) programs, it's very simple: cooked mung beans, salt, bay leaf and a few spices. When I'm cooking at home, I sometimes add onions for extra flavor and I often add vegetables for a more substantial dish. It's a thick soup so it may suffice for your meal, or you can serve it over quinoa or rice.
Finally, thanks for your patience awaiting new recipes! I've been busy launching
Sacred & Delicious: A Modern Ayurvedic Cookbook. You can find it at most independent book stores, or they will order it for you if you like supporting your local merchants. You can also find it at Amazon.
Enjoy this Mung Soup recipe every time you need an easy meal…or an easy detox!
Lisa J. Mitchell
If you like zucchini, you will love Creamy Zucchini Soup. This tasty soup will help you make an easeful transition from summer to fall. And another thing about this dish that is great is that it takes no more than 20 minutes to make, start to finish!
During September and October, and even into November in some places, zucchini is being harvested before the first big frost. As the nights are getting cooler in many parts of the country, this warm, gingery vegetable soup is a perfect accompaniment to a veggie burger, a pasta entrée, or a sweet potato stuffed with black beans! As cold and flu season approaches, one Read More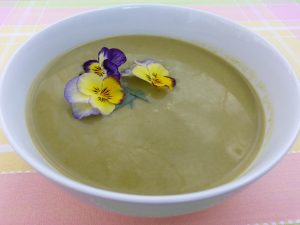 Despite the dismal weekend forecast, organic asparagus are popping up everywhere in gardens and stores, so what better time to make a steaming pot of Easy Asparagus Soup!
Springtime in the South is such a tease:  it's 80 degrees in February, and then in April it snows. Or as anticipated on Saturday, there will be rain all day, keeping everyone inside during the first full weekend of April, and then the overnight temperature will dip to a wretched 32. Be strong, beautiful azaleas!
As the days warm up into the 80s here next weekend (and as cities further north and west will at least have a brief respite in the 50s), you might want to try a gluten-free Asparagus Pilaf with Quinoa or Millet or some Quick Sautéed Asparagus.
Enjoy these reprised recipes. In partnership with my publisher, I've been working full-time to finish production on my gorgeous new cookbook! I'll be back with another spring recipe this month, so stay tuned.

Lisa J. Mitchell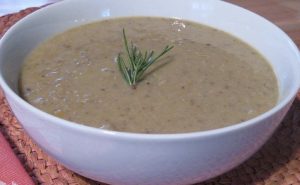 With so much cold and flu circulating in every public place at this time of year, I started eyeing the shiitake mushrooms at the grocery store today… and then invoked the Goddess Annapurna to help me create a delicious approach to mushroom soup. This Mushroom Lentil Soup is just that—a dish that's definitely for mushroom lovers, as it boasts a hearty amount of the immune-boosting shiitakes.
The neutral-flavored red lentils, also known as masoor dal, give the soup substance as well as protein and iron. I use a mixture of traditional Ayurvedic spices (cumin and coriander to balance agni) along with classic American herbs (rosemary and sage), which you might expect to find in a mushroom bisque. You can add a couple of tablespoons or more of wine if you wish—just a little adds a nice dimension to the flavor. Read More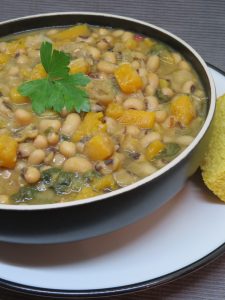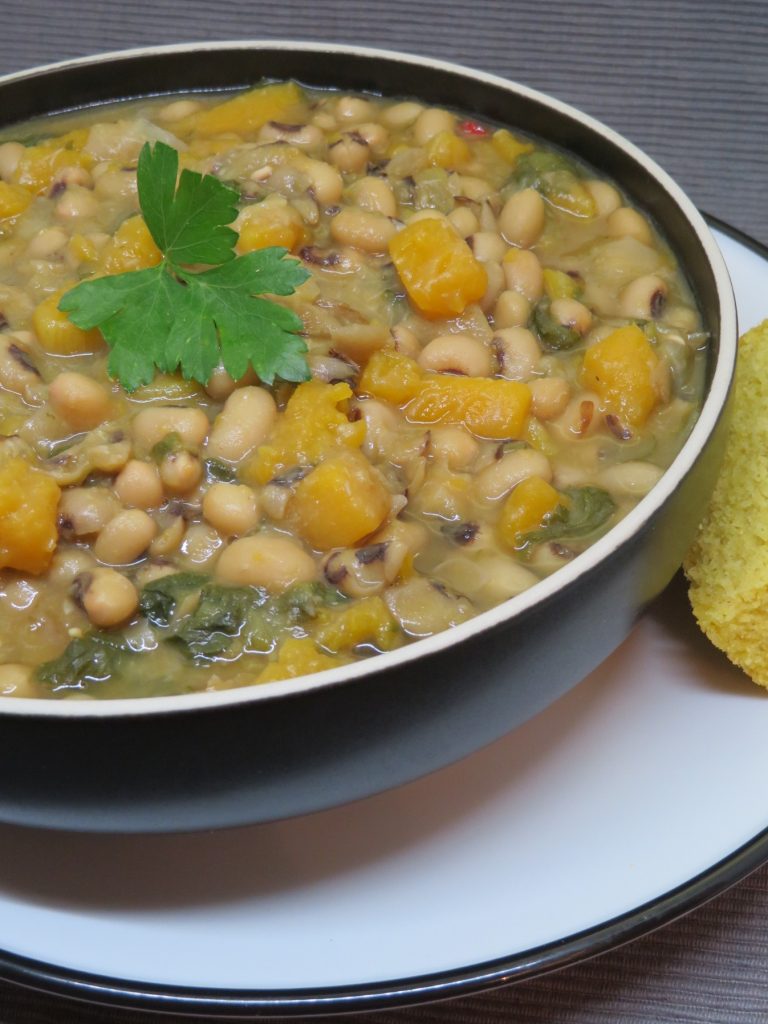 Ask any Southerner how to start the new year in the most auspicious way, and they won't even blink before naming a bowl of Hoppin' John or some other version of peas and greens—like this vegetarian Smoky Black-Eyed Pea Soup with Collards! Serving such a dish on New Year's Day is thought to bring good luck because long ago black-eyed peas reminded someone of coins. The greens are said to bring prosperity because greens are associated with green cash. If you enjoy food history, you can read more about this legend at Southern Living  and Epicurious.
My Smoky Black-Eyed Pea Soup is filling because of the generous proportion of peas, and it is made even more satisfying by the addition of butternut squash, a favorite winter vegetable. If you serve this soup over rice, like a traditional Hoppin' John, you will need little (if anything!) else at your New Year's Day table.
How can you make your New Year's Day even more auspicious? Read More
Although it's officially spring, some chilly days and freezing nights are still ahead, but you can stay warm with a hearty chickpea soup—or make it a stew with a little less liquid. This is a very easy recipe that can be made in less than an hour if you use a slow cooker or pressure cooker. It's also very filling and can serve as a one-dish meal.
Chickpeas, also called garbanzo beans, have a number of health benefits. They are an excellent source of vegetarian protein, and they help regulate appetite and blood sugar. High in fiber and antioxidants, they support the digestive tract, cardiovascular health and general well-being.
All legumes can be difficult to digest because they greatly increase vata, the quality of air—which, of course, can be an ongoing source of table humor! But you can dine with friends on a pot of beans minus the embarrassment if you follow these few tips for digesting legumes:
Always soak the beans in cold water for eight hours before cooking them.
Cook beans until they are completely tender.
Use one pinch of asafetida per cup of dried beans (also spelled asafoetida, and called hing in India). The asafetida typically sold in Indian grocery stores is cut with wheat, but you can now purchase gluten-free asafetida online.
Add a generous amount of fresh ginger and garlic to increase agni, your digestive power.
Stay warm with this delectable and satisfying Chickpea Soup or Stew during these final cold days of spring!
Lisa J. Mitchell
Baby, it's cold outside for Southerners — and it's the perfect time for cooking something hot and hearty like a
flavorful Italian bean soup with greens and sun-dried tomatoes. Twenty-eight degrees and freezing rain pelted the Raleigh/Durham area and much of the East Coast Friday, and it's snowing again today as I write. No complaints here, though. Grateful for our good fortune to still have power, I have taken pleasure in creating an updated version of a familiar bean soup. Read More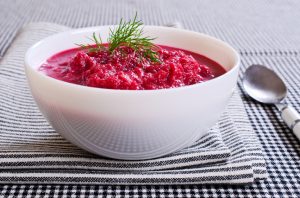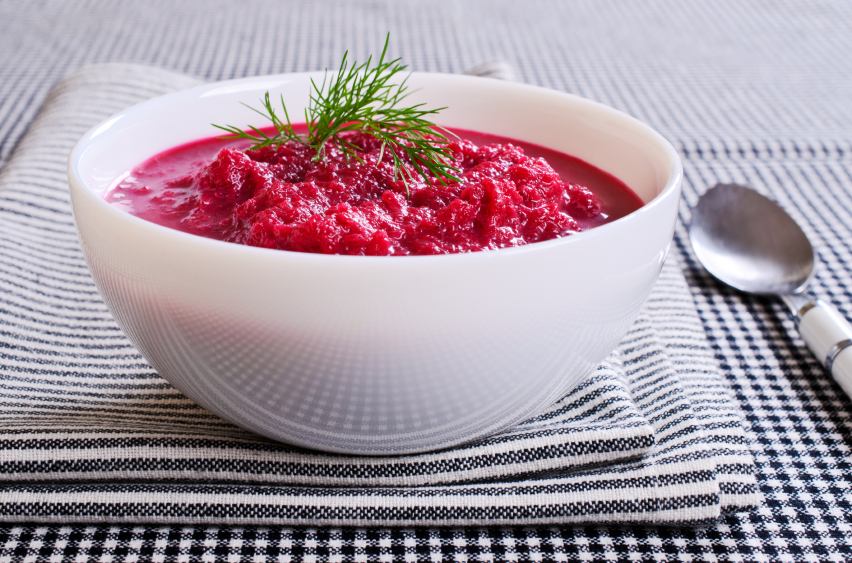 It's summer—at least it feels like it after a week of 88 to 90 degree weather here in Raleigh, North Carolina—so bring on the cool specialties like this Roasted Beet and Fennel Soup. Cool soups are a perfect way to refresh yourself when you're over-heated.
Did you notice that I said "cool" rather than "chilled"? Let's zoom in on that thought. Read More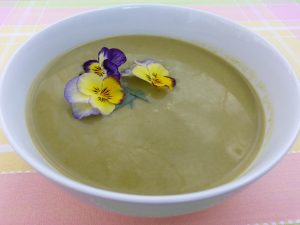 Magnificent spring! O, how we welcome your abundant blessings! For my toast to spring I offer you, dear readers, this easy asparagus soup recipe, a sneak-peek from Sacred & Delicious: A Modern Ayurvedic Cookbook.  It's still cool enough during these early spring nights to enjoy the warmth of  a delicate vegetable soup, though this is one of the few vegetable soups that I also enjoy at room temperature on a warm day.
When I initially crafted this recipe, my intention was to make a creamy soup, but the asparagus smelled so good before I added milk that I served it dairy-free and have ever since.  If you love dairy and are able to digest it, you can certainly add some real cream, say 1/4 to 1/2 a cup. Or add a swirl of whole coconut milk for a sensual flourish when you serve the dish to your grateful guests. Read More