One-Pot Meals to Simplify Holiday Time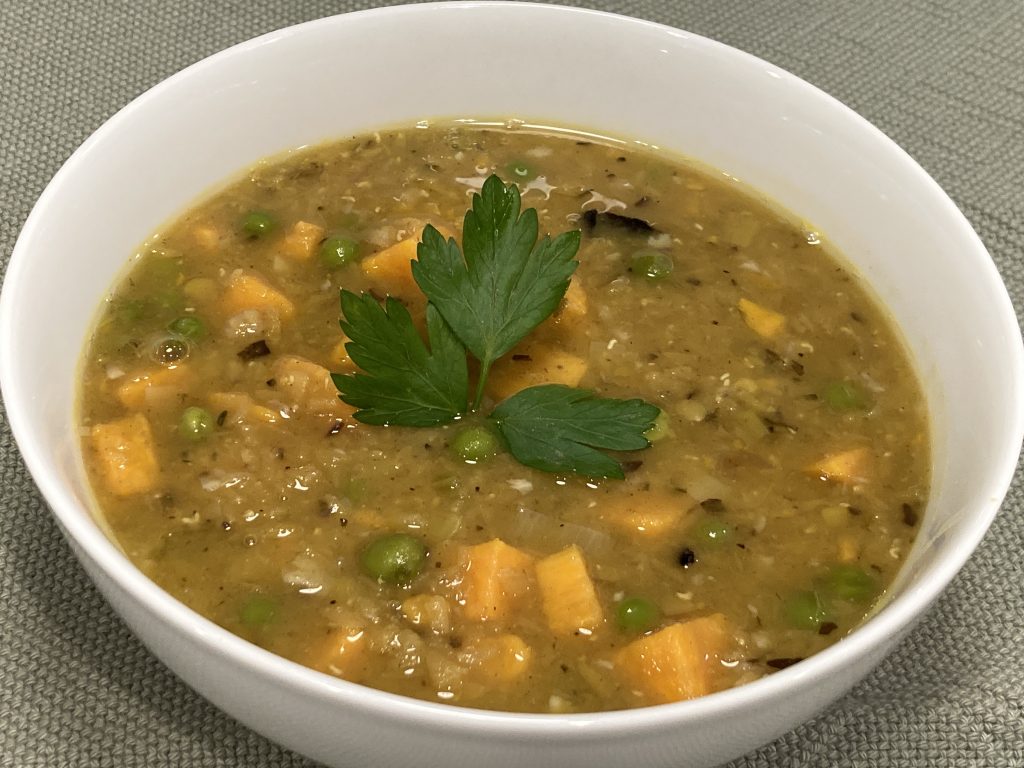 When your life is especially busy—like during the holidays—it's great to have some one-pot meals that are filling and delicious. I recommend this Savory Sweet Potato Soup with English Peas. As you plan different meals for the week your kids return from college or bring their carloads of grandchildren to visit, this hearty soup can make menu planning a lot easier.
Yes, fresh peas in pods are usually a spring item, but I've been finding bagged fresh peas at Whole Foods this month, so I picked up some for a change of pace. It's fun to shell peas, even though it does take extra time!
When I can't find fresh peas, I use 2 cups of fresh green beans, which also make this a lovely soup. Either way, I add some shiitake mushrooms. Of course, some people don't like mushrooms because they're so chewy—my husband included. But he enjoys mushrooms when I mince them in a food processor. If you don't appreciate the mushrooms' earthy flavor, you can make the soup without them, because you'll still find plenty to savor in this dish.
If you crave extra spicy dishes, you can use up to a teaspoon of paprika or even add a chili—though I don't recommend either for anyone with pitta or vata issues. The heat of paprika and chilies can precipitate or aggravate any number of pitta problems, including headaches, acid indigestion, and skin ailments such as rashes, itching, and acne. And because heating foods are drying, they can also increase vata symptoms from insomnia to joint pain and more!
The flavor of different brands of paprika can vary greatly from quite mild to pungent and hot. For this reason, I find it best to start with a modest amount and add more to taste.
Instead of using tomatoes, which I avoid, I added 3 pieces of kokum to this soup to add another tangy layer to the dish. Kokum is a dried form of wild mangosteen fruit that is often used in Indian cooking. (You'll see black specs of kokum in the recipe photo after the larger pieces have broken into smaller bits after cooking.) I learned from Vaidya Smita Naram that kokum, although slightly sour, does not increase pitta like tomatoes. I get that you may not want to shop for an unfamiliar ingredient, so you can try a splash of lime instead at the end of the recipe or even drizzle a small amount of balsamic vinegar in the pot before you serve.
Enjoy this Savory Sweet Potato Soup with English Peas to keep warm on these cold nights during this sweet season of Hanukkah, Christmas, and Kwanzaa. Wishing you and your loved ones safe travels and joyful holidays as you make new memories together.
Print