Root Vegetables, Deliciously!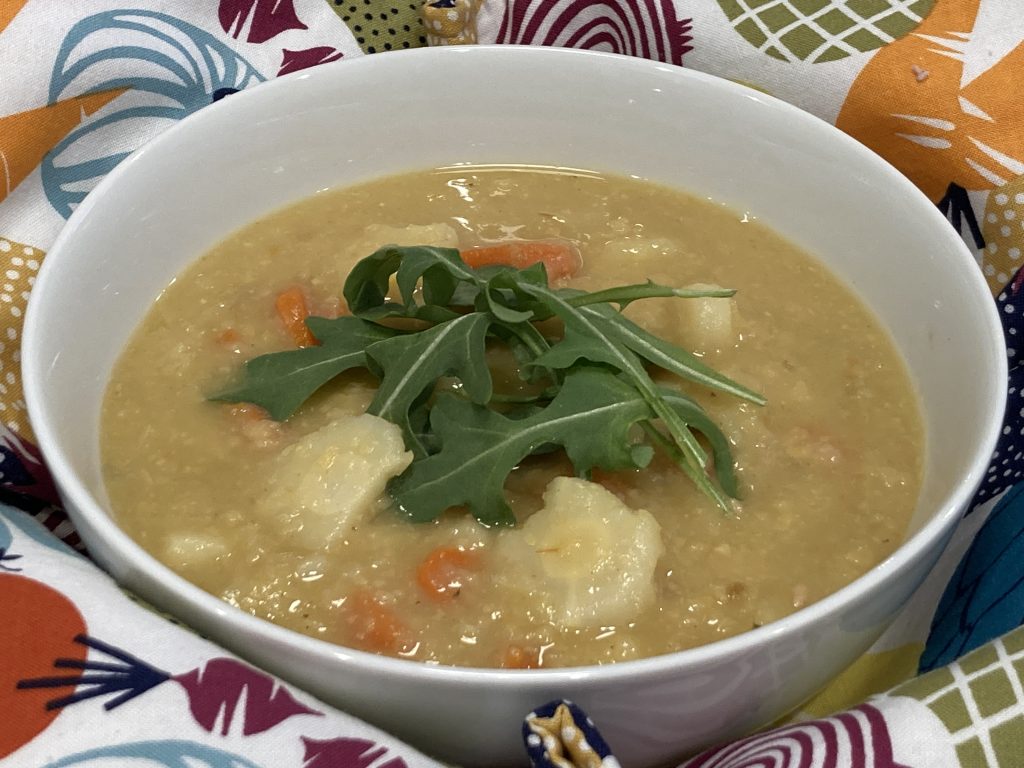 If you can't get enough soup during the winter months, I have a delicious new recipe for you—Root Vegetable Soup, made two ways.
Readers following my blog for a long time know that sweet potatoes are my favorite root. Being somewhat of a habitual eater, I never tire of them. But even I need a change of pace from time to time, which is what inspired this recipe focused on parsnips and carrots.
I most often see recipes coming into my inbox for roasted parsnips, but roasting these vegetables naturally dries them, which I don't enjoy. Instead, I whipped up this soup to enjoy the parsnip's unique flavor with plenty of yummy broth and good fat so this vegetable is easier to digest. A bit of arugula gives a delectable splash of green.
Since I love the ease of one-pot meals—and because I like to eat some vegan protein with every meal—I made this batch with a base of freshly cooked chickpeas. Readers who prefer to avoid legumes can still appreciate the lovely flavors of a simpler all-veggie soup, making this recipe with less liquid.
From an Ayurvedic perspective, carrots and parsnips are fine for everyone when they're cooked so that they're tender and moist. From a nutritional perspective, both carrots and parsnips are rich in fiber, vitamins, and antioxidants. Carrots boast a lot of potassium, and parsnips add magnesium to the mix. As with many vegetables, the fiber in parsnips and carrots supports regularity, and their antioxidants may help prevent chronic conditions like cancer, diabetes, and heart disease. Improved immunity and eye health are also linked to carrots, good reasons why carrots are beloved as a "super food."
Reap the benefits of this nutritious, delicious, and easy recipe for Root Vegetable Soup the next time you want to warm up with a new dish on a cold day!
PS As with all of my soup recipes, this tastes infinitely better when you make it with fresh Easy Vegetable Soup Stock vs. boxed or canned stock.
Print