Easy Elegance for Valentine's Day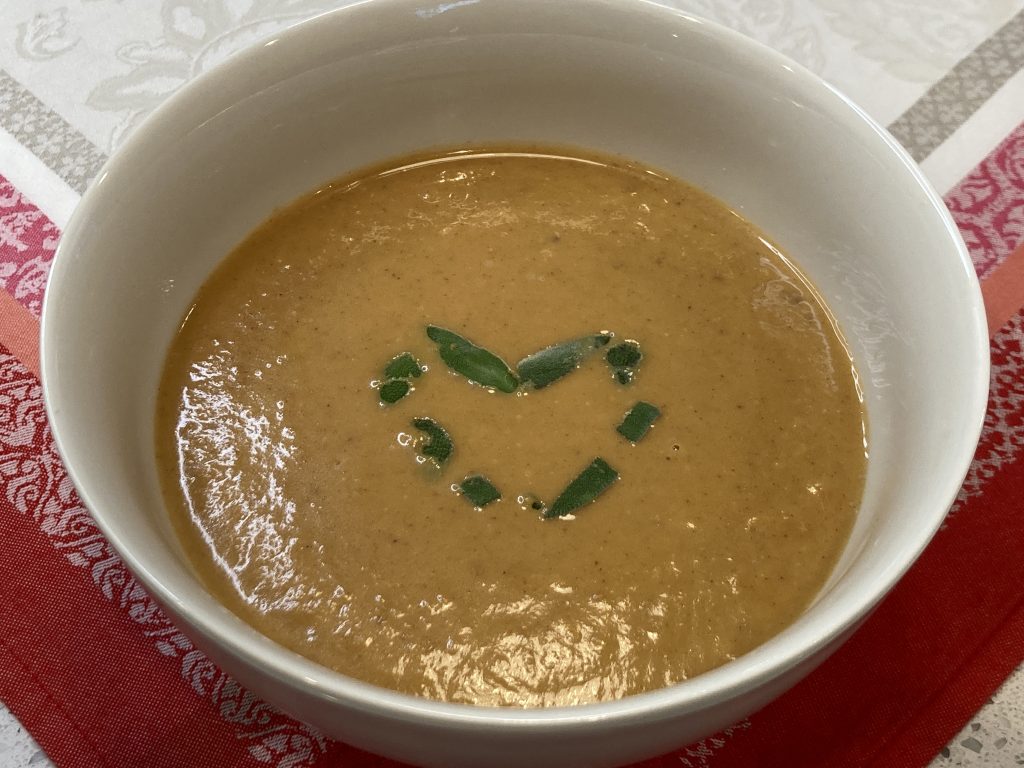 This Sweet Potato Soup with Pecan Butter may be the easiest soup recipe I've ever created with the inspiration of Goddess Annapurna—and it may also be the most delicious! You can make it in about 20 minutes if you're handy with a knife and have Easy Vegetable Soup Stock on hand. If not, you may want to plan to make the stock over the weekend before a Valentine's dinner…or before any meal when you want to savor something a little different and quite exquisite.
This soup is simple, with only a few ingredients, but it gets an important layer of its sublime flavor from the stock. As my long-time readers have heard me say before, many friends have loved a soup I served them—and then complained that it didn't taste nearly so delicious when they made it. I always ask whether they made the stock or poured it from a box. You can guess their response!
If you have a Vitamix, you may want to grind some pecans to make the nut butter. Since I make almost everything else from scratch, I prefer taking the easy route here. I picked up a jar of pecan butter at the grocery store. You can also find a good brand online.
My friend Eliza Hearn has been my sous chef in the past week while I recover from another bout of tendinitis. (Thank you, Eliza!) She and I tasted this soup a few different ways. First, we each ate a spoonful of soup with no garnish and agreed that its richness can easily stand alone. For fun, we added some blackened onions as a topping; this was tasty, but we both thought the onions overpowered the soup's subtle perfection. Finally, we minced and sizzled a couple of sage leaves in ghee to use as a garnish. This time we exhaled a simultaneous "Mmmm!"
As you plan a memorable menu for Valentine's Day, I suggest you delight your family or special someone with a cup or a bowl of this yummy Sweet Potato Soup with Pecan Butter!
Print