Seven-Minute Sides: Smoky Greens
A pot of fresh greens is so quick and easy to make! It's the perfect side dish to a cool summer soup, a quinoa salad, or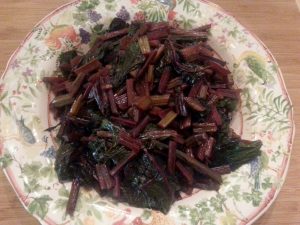 some Southern black-eyed peas. Greens are always ideal when your priority is easy cooking with a dash of healthy and delicious.
I was inspired to make this dish when one of my husband's patients brought us a large bag of beet greens right out of her garden, but you can also use a bunch of kale or chard, though kale will take an extra 10 minutes to cook. I suggest  6 to 10 large leaves per person, at least, since they will reduce to a small serving after cooking.
You can use any type of seasoning, but a good artisan salt like Salish Alderwood Smoked Salt transforms an ordinary dish into gourmet food. If you crave a little heat, add some fresh ginger. If you long for still deeper flavor, start by sautéing a couple of shallots until they start to brown  before you add the greens. (Using the shallot will add another 7 to 10 minutes by the time you peel, slice and sauté the shallots. It will give added depth but is not required for good taste.)  Want some crunch and a hit of protein? Top with chopped raw almonds.
Try these smoky sautéed greens when easy cooking is at the top of your to-do list!
Save
Save
Save
Save
Save
Save
Save
Save
Save
Save
Save
Save
Save
Save
Save
Save
Save
Save
Save
Save
Print