SACRED & DELICIOUS
Food • Health • Spirituality
If you love dark chocolate and want to splurge a little for Valentine's Day, do I have a treat for you and your beloved—perhaps the fudgiest brownies you've ever tasted! From a health perspective, the good news is that these are not outrageously sweet compared to standard fare, even though I'm told they are sufficiently decadent to stir the passions of any chocolate lover.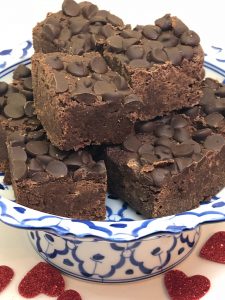 First, let me acknowledge what may be obvious to many readers: chocolate, fudge, and brownies are not part of ancient Ayurvedic cuisine. Nonetheless, I believe in adding some flexibility to my offerings so that
people exploring Ayurveda don't feel constrained by too much austerity. As one of my Ayurvedic mentors Read More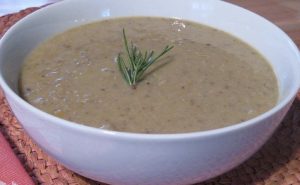 With so much cold and flu circulating in every public place at this time of year, I started eyeing the shiitake mushrooms at the grocery store today… and then invoked the Goddess Annapurna to help me create a delicious approach to mushroom soup. This Mushroom Lentil Soup is just that—a dish that's definitely for mushroom lovers, as it boasts a hearty amount of the immune-boosting shiitakes.
The neutral-flavored red lentils, also known as masoor dal, give the soup substance as well as protein and iron. I use a mixture of traditional Ayurvedic spices (cumin and coriander to balance agni) along with classic American herbs (rosemary and sage), which you might expect to find in a mushroom bisque. You can add a couple of tablespoons or more of wine if you wish—just a little adds a nice dimension to the flavor. Read More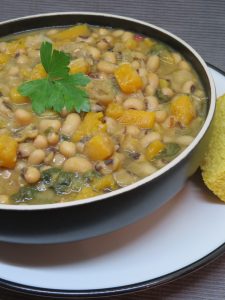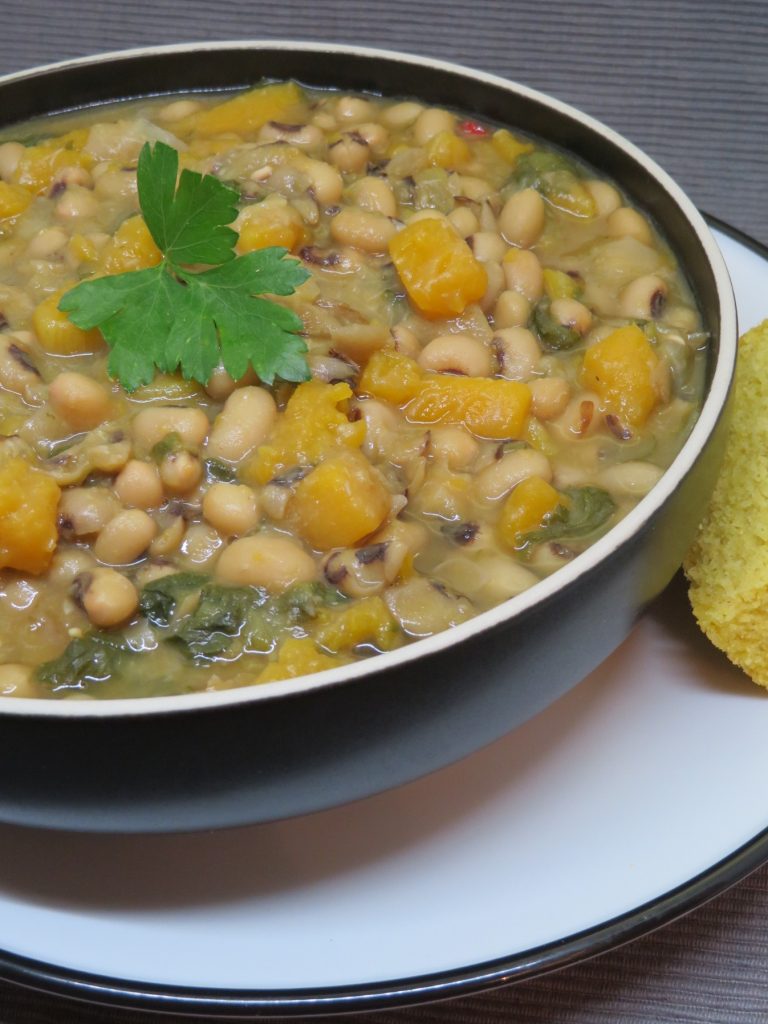 Ask any Southerner how to start the new year in the most auspicious way, and they won't even blink before naming a bowl of Hoppin' John or some other version of peas and greens—like this vegetarian Smoky Black-Eyed Pea Soup with Collards! Serving such a dish on New Year's Day is thought to bring good luck because long ago black-eyed peas reminded someone of coins. The greens are said to bring prosperity because greens are associated with green cash. If you enjoy food history, you can read more about this legend at Southern Living  and Epicurious.
My Smoky Black-Eyed Pea Soup is filling because of the generous proportion of peas, and it is made even more satisfying by the addition of butternut squash, a favorite winter vegetable. If you serve this soup over rice, like a traditional Hoppin' John, you will need little (if anything!) else at your New Year's Day table.
How can you make your New Year's Day even more auspicious? Read More
Vegan Zucchini Soup with fresh herbs is a perfect side dish that will help cool your metabolism to deal with the heat.  Fresh mint and cilantro are naturally cooling, but if you have an aversion to cilantro you can add a touch of basil or double up on the mint. Cucumbers are also cooling, and they are balanced with a touch of ginger to add a spark of flavor while helping digest the cucumbers. Cucumbers are much easier to digest when peeled and Read More
Summer holds many joys but few are as divinely delicious as ripe southern peaches in a peach cobbler. Peach pie is also a special delight, but cobbler is so much simpler to make.
Peach cobbler is not such a far cry from traditional Ayurvedic cuisine as you might think. As with all food in the Ayurvedic model, cooked fruit is preferred to raw. And I make this dish with unrefined sugar, as do traditional Ayurvedic cooks when making sweets. Read More
By popular request I'm posting my recipe for refried beans, which I use as the protein base for
Mexican-style burritos (or tostadas) stuffed with sweet potatoes, red peppers and zucchini. No cheese or tomatoes for me, and just a hint of poblano pepper, but I'm happy to use plenty of homemade guacamole!
Who said that following an Ayurvedic diet requires eating Indian food every day? If you love Indian food, go for it! But if you don't like it much at all, you can easily apply the core principles of Ayurveda to every cuisine, including Mexican food. In my book Sacred & Delicious, and on this blog, I offer many examples of how to balance your favorite foods to keep your body in balance. Read More
It's still spring so I'm not quite done with asaparagus! I present to you asparagus pilaf cooked two ways, both gluten-free. I've tried this recipe with quinoa and millet. Each dish is satisfying enough for a light meal, while they both work well as appetizing side dishes.
This pilaf is a colorful addition to the Passover table or Easter celebration. And a happy invitation to my observant Jewish readers—no guilt necessary! The rabbis have given their blessings to quinoa during Passover, and millet may not be far behind. Read More
Although it's officially spring, some chilly days and freezing nights are still ahead, but you can stay warm with a hearty chickpea soup—or make it a stew with a little less liquid. This is a very easy recipe that can be made in less than an hour if you use a slow cooker or pressure cooker. It's also very filling and can serve as a one-dish meal.
Chickpeas, also called garbanzo beans, have a number of health benefits. They are an excellent source of vegetarian protein, and they help regulate appetite and blood sugar. High in fiber and antioxidants, they support the digestive tract, cardiovascular health and general well-being.
All legumes can be difficult to digest because they greatly increase vata, the quality of air—which, of course, can be an ongoing source of table humor! But you can dine with friends on a pot of beans minus the embarrassment if you follow these few tips for digesting legumes:
Always soak the beans in cold water for eight hours before cooking them.
Cook beans until they are completely tender.
Use one pinch of asafetida per cup of dried beans (also spelled asafoetida, and called hing in India). The asafetida typically sold in Indian grocery stores is cut with wheat, but you can now purchase gluten-free asafetida online.
Add a generous amount of fresh ginger and garlic to increase agni, your digestive power.
Stay warm with this delectable and satisfying Chickpea Soup or Stew during these final cold days of spring!
Lisa J. Mitchell
"I lost 31 pounds over the past year, and I'm
feeling terrific!" says Debby W., a Raleigh resident who first started seeing Dr. Tom Mitchell for a pinched nerve and later for chronic pain. After these issues were successfully resolved, Debby was open to meeting with Vaidya Smita Naram for a broader health assessment  during her first visit to Raleigh in March 2016. Vaidya Naram is a world-renowned pulse master and Ayurvedic physician.
"I was absolutely amazed at what Vaidya Naram told me in that first meeting," Debby says. "She was right on the money identifying the existing conditions that I know I have just from taking my pulse, but she astounded me with other unexpected recommendations. She suggested that I was prediabetic and needed to eliminate gluten, dairy and sugar from my diet. Dr. Mitchell followed up with comprehensive blood testing to get a complete picture. It turns out that I am indeed prediabetic. However, with nutritional counseling and supplementation from Vaidya Naram and Dr. Mitchell, I have already seen a normalization of my plasma glucose levels and my cholesterol. WooHoo!
"I lost 14 pounds during the first six weeks when I began following the dietary recommendations and taking some Ayurvedic supplements," Debby continues, "but I do not feel deprived at all!"
Debby is not a vegetarian, but she started eating more fresh fruit and vegetables along with lean meat and fish for protein. She happily reports that giving up the foods that contributed to chronic pain and becoming prediabetic has been well worth the effort.
"People are always saying, 'Don't you miss eating gluten, dairy and sugar?' and my answer is 'no!' I'm completely satisfied with my meals. I snack on fruit, nuts and almond butter—which is absolutely delicious. I have so much more energy and a positive outlook for my health in the future.  Growing older does not equate to lethargy and weight gain. We have a choice!"
If you'd like to experience a consultation with Dr. Mitchell and Vaidya Smita Naram, call 919-785-2200 and begin your safe weight-loss program. Vaidya Naram is in Raleigh for a pulse assessment clinic Saturday and Sunday, March 4 and 5.  Prior to Raleigh, she will be in clinics in Manhattan, Edison, N.J., and Syracuse, NY. If you wish to schedule an appointment in New York, go to http://ayushakti.eu/ayushaktiusa.com/index.html.
Looking for ways to add more vegetables to your diet? You'll find many easy and delicious vegetarian dishes right here at the Sacred & Delicious blog—all gluten and dairy-free, and rarely any sugar!
Always keeping your best health in mind!
Lisa J. Mitchell