SACRED & DELICIOUS
Food • Health • Spirituality
Dear Readers,
Hurricane Michael is stirring up the winds up to 55 mph here in Raleigh this evening. Our lights and internet are flickering, and I'm not sure we'll  be able to sustain a call. I'm so sorry for this last-minute notice, but I think it's best for us to reschedule the call for another date.
We are rescheduling the call for Tuesday, October 23, same time: 5 p.m. Pacific, 8 p.m. Eastern. 
I apologize for any inconvenience this may have caused you. Thank you for your patience and understanding!
Lisa J. Mitchell
* with one caveat
Hello dear reader,
Dr. Tom Mitchell and I look forward to our conference call with you Thursday night, October 11,  at 8 p.m. Eastern, 5 p.m. Pacific…with one caveat!  Hurricane Michael is expected to drop about 5 inches on Raleigh, NC, between Thursday and Friday evening. At this time, high winds are also anticipated in Raleigh, where we live, during the conference call.
If you don't find us at Zoom, please know that our power is down, and we will reschedule!
Join the call by clicking on this link:  https://zoom.us/j/415459606
Hoping that everyone in the hurricane's path will stay safe.
And we hope to join you on time later today!
Hello friends!
Just a reminder that the one-hour complementary  conference call about how to reclaim vibrant health with Ayurveda is on Thursday, October 11, 2018 at 8 p.m. Eastern, 5 p.m. Pacific. The recording will be available through October 18.
Join the call by clicking on this link:  https://zoom.us/j/415459606
Stories of people who have overcome serious health problems through modern Ayurveda—  without taking pharmaceuticals
A few fundamental principles of Ayurveda
A safe weight-loss plan that never leaves you hungry
Dietary recommendations to support chronic health conditions, including acid reflux, acne, headaches, back pain, perimenopause/menopause and more.
Q&A
If you'd like to submit a question in advance, please do so by 8 p.m. (Eastern time) on October 10. Dr. Mitchell can address some general questions about health issues, and Lisa can answer your questions about food and diet. Please post your questions in the comment section of this blog.
Talk to you soon!
Hello dear readers!
It's time for your complimentary conference call!
I'm writing to invite you to the conference call you signed up for with your Bonus Gift at the Sacred & Delicious web site—or when you signed up at the Sacred & Delicious Blog. The one-hour call is scheduled for Thursday, October 11, 2018 at 8 p.m. Eastern, 5 p.m. Pacific. The recording will be available through October 18.
Join the call by clicking on this link:  https://zoom.us/j/415459606
During this complimentary conference call, I will be joined by my husband, Dr. Tom Mitchell, a chiropractic physician and expert practitioner of Ayurveda and functional blood chemistry. Together, we'll discuss how you can improve your health and vitality through the practice of Ayurveda. Read More
If you like zucchini, you will love Creamy Zucchini Soup. This tasty soup will help you make an easeful transition from summer to fall. And another thing about this dish that is great is that it takes no more than 20 minutes to make, start to finish!
During September and October, and even into November in some places, zucchini is being harvested before the first big frost. As the nights are getting cooler in many parts of the country, this warm, gingery vegetable soup is a perfect accompaniment to a veggie burger, a pasta entrée, or a sweet potato stuffed with black beans! As cold and flu season approaches, one Read More
Ayurveda's common-sense dictum is that opposite qualities balance one another—whether in the body, the mind, or the emotions. So, to quell the last of the summer heat, I call for balance and say, "Bring on the cucumbers!"
In this lovely summer soup, the cooling power of cucumber is augmented by coconut milk, cilantro, and mint, all which cool the metabolism even further. Fresh ginger, cumin seeds, black mustard seeds, and lime all aid digestion besides being richly flavorful. They are also warming foods, which bring balance to the dish for vata and kapha types, who tend to be cold natured.
Ayurveda identifies the healthiest meal as one that provides all six tastes in one sitting. Those six tastes exist in this one very simple dish: Read More
A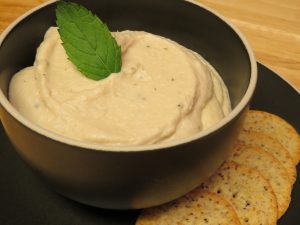 few days ago my husband, Tom, walked into the kitchen and asked if we had any white beans. I thought What on earth for? and then, more politely, asked, "Why?"
"Thought I'd make some white bean hummus." He smiled and assured me he'd get it started after golf, despite a 2:00 p.m. tee time. Although he has created some great dishes, this was not going to happen, I knew.
I said, "What if I make it instead?" Ask and ye shall receive! I must say, though, that it Read More
I tasted this scrumptious cauliflower dish at The Well Fed Community Garden in Raleigh in late May when Arthur Gordon, of Irregardless Cafe fame, created the dish on the spot! He gathered up whatever looked fresh and interesting at the farmer's market along with herbs growing in the community garden and—voila!—came up with this amazing dish! I've adapted it only slightly to serve eight instead of eighteen and made it a tad milder so it doesn't bring on more heat in this sweltering summer.
The complete dish is a cauliflower "steak" that is rubbed down with a mixture of fresh herbs, roasted or sautéed, and topped with a red pepper cashew sauce. The first time I made this myself, I ran out of time and served only the first part of the dish, pictured here— Read More
With temperatures already in the upper 90s and above across the southern half of the country, we can expect a long, hot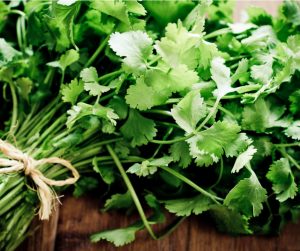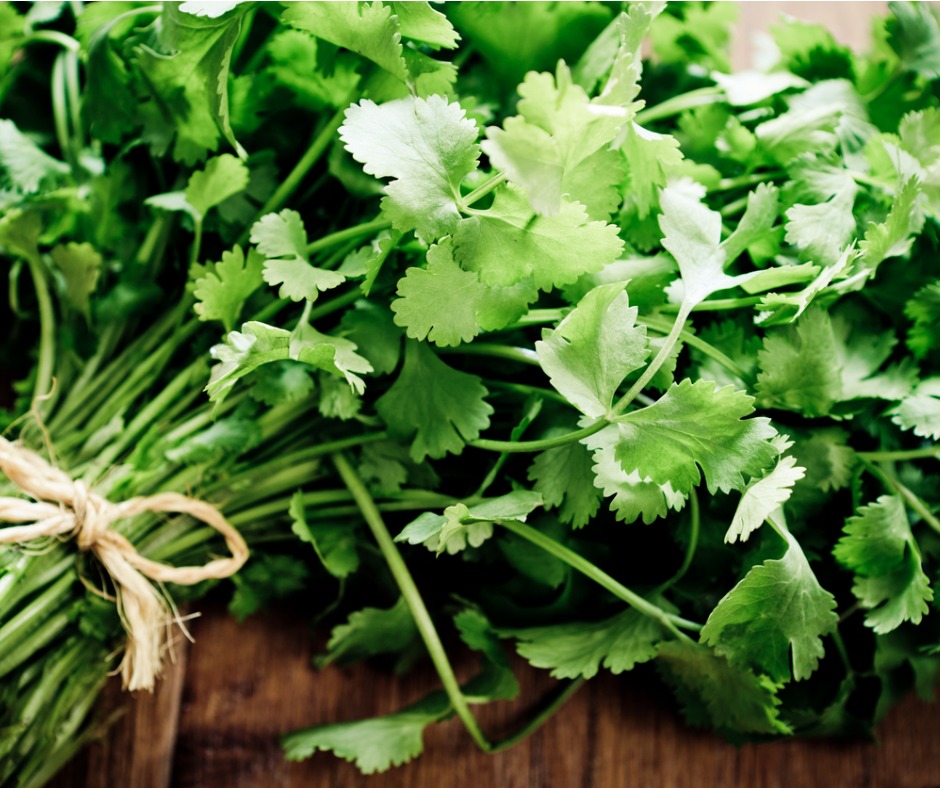 summer. Fortunately, Ayurveda has some excellent tips to help keep your body, mind, and emotions in balance—even in scorching heat!
According to Ayurveda, pitta—the dynamic principle of heat—is necessary to maintain life, but during the summer when our bodies can easily become overheated, pitta gets out of balance. Too much heat can trigger a host of physical problems, including acne, headaches, and hyperacidity. If you wake up at three or four in the morning and can't fall back to sleep for an hour or longer, Ayurveda says it's a sign of excess heat in the body. Read More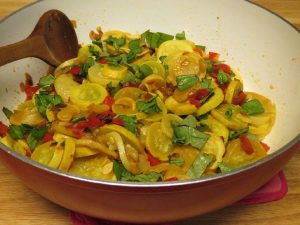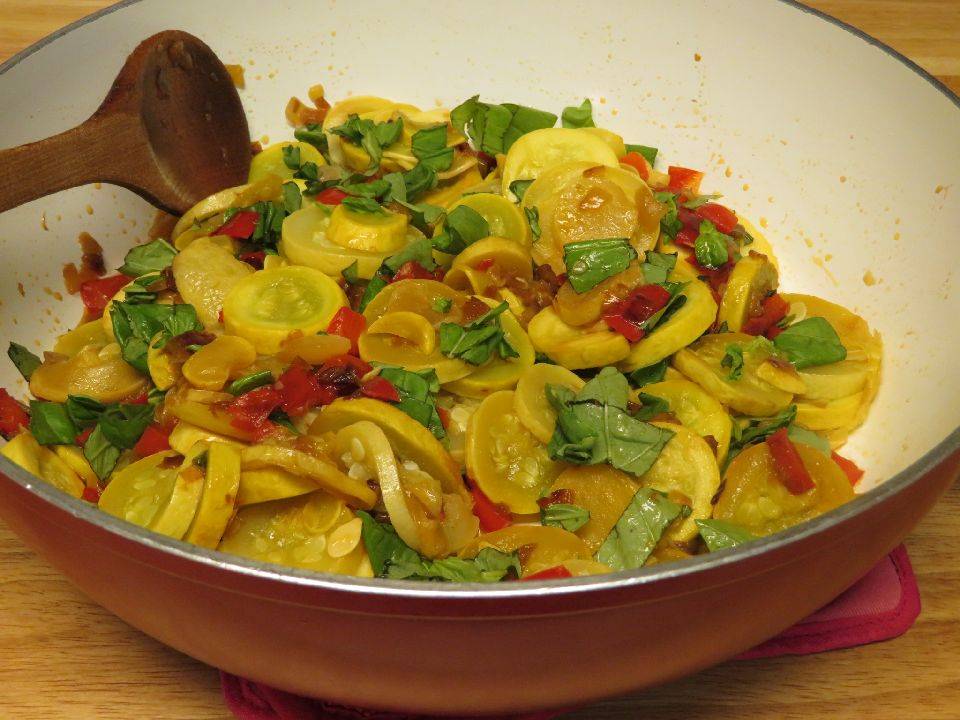 Long before the June solstice, summer is heralded by Memorial Day, picnics, backyard barbecues, and abundant yellow crookneck squash. This colorful squash dish with red bell pepper and fresh basil or dill (suit yourself) is great for summer entertaining, and it travels well to a potluck.
I tasted something like this dish once at a potluck supper way back, and of course, since I live in the South, it would have been smothered with cheese. I think this dish proves the winning possibility of creating a casserole without cheese that everyone will still love — Read More