SACRED & DELICIOUS
Food • Health • Spirituality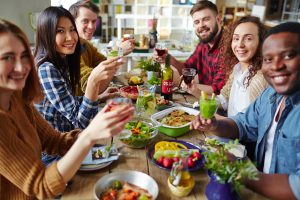 As often described in articles about holiday entertaining, it can be challenging because emotional expectations are often so high—both your own and your guests. You may be trying to create a picture-perfect event that is a dream come true for your family. When entertaining friends, you may hope to out-do your last kitchen performance. Expectations aside, holiday preparation is particularly daunting for people who work forty-plus hours a week. Double that for working parents. And of course, entertaining is the most stressful for perfectionists, who want their house to be impeccable, their food to be amazing, and who want to look stress-free and gorgeous, even when they're totally frazzled.
There's also a new kind of challenge in this millennium, as increasing numbers of people are adhering to special diets, some by choice and some because of a health problem that is clearly triggered by certain foods. Guests who are following Whole-30, Keto, or Paleo (among other plans) may eagerly fall off the wagon to enjoy a holiday meal. However, most vegetarians, vegans, or gluten-free guests will not be willing to stray from their commitment Read More
I love this Spiced Pumpkin Pound Cake. It's a way to enjoy the holidays without getting a sugar high that's followed
by the inevitable sugar crash! This cake is wonderfully moist but not overly sweet, and it's won rave reviews wherever I take it.
So, if you want to add something unexpected to a holiday feast, try this gluten- and dairy-free dessert that is sure to please, alongside the traditional pies. We enjoy it plain, but you can dress it up with a sweet glaze or sprinkle some maple sugar crystals on top once it has cooled.
I typically sweeten the batter with coconut sugar, because it has a much lower glycemic index and calorie count than either white sugar or maple sugar. Of course, maple sugar is lighter in color, and for that reason I wish I had baked this cake with the maple for a photo as it would likely be more aesthetically appealing to the American consumer's eye! Maple sugar has some additional nutrients, compared to coconut sugar, and Ayurvedic expert Dr. Vasant Lad says that maple products (syrup or sugar) are "strengthening." Here's more on maple vs. coconut sugar. Either way, you'll have a delicious cake that won't last long at your holiday buffet!
If you're new to the Sacred & Delicious Blog, you can also find some recipes for wonderfully delicious, traditional, healthy Thanksgiving side dishes right here.
Finally, I'd like to acknowledge the trauma and deeply troubling problems that millions of Americans face going into this holiday. First, I offer my condolences and join in grief with thousands across California who are suffering from the destruction wrought by the horrifying fires and their aftermath. Thousands more are still recovering from the loss of homes during the devastating hurricane season. For many, such events may preclude the niceties of baking cakes and pies and the joyful cooking of a traditional Thanksgiving meal. Still, millions more across our country suffer from chronic unemployment, underemployment, and poverty, finding such festivities impossible unless they are able to get to a soup kitchen. For those of us who are able to revel in the abundance of the holiday season, may we always make space in our hearts and at our tables for those who are less fortunate.
Wishing each of you a sweet Thanksgiving filled with all the traditions that bring you joy!
Lisa J. Mitchell
SPICED PUMPKIN POUND CAKE
Preparation time:  About 3.5 hours (1 hour active)
Serves 8 to 12
For the Cake:
4 large eggs
2 cups pumpkin purée from 1 small sugar pumpkin (2-3 pounds)
10 tablespoons ghee
1½ cups sifted Bob's Red Mill Super Fine Almond Flour
1½ cups oat flour
¾ teaspoon xanthan gum
2 teaspoons baking powder
1 teaspoon baking soda
1 teaspoon fine ground Celtic Sea Salt
1½ teaspoons ground cinnamon
1 teaspoon ground allspice
1½ cups coconut sugar
1½ teaspoons vanilla extract
For the Glaze: (optional)
1 cup maple sugar crystals
1 tablespoon real maple syrup
2 tablespoons plain unsweetened almond milk
½ teaspoon vanilla extract
Pinch salt
1. Remove eggs from the refrigerator 1 hour or more before assembling the cake so they can warm to room temperature.
2. Prepare the pumpkin: Adjust the oven rack to the lower-middle position, and preheat oven to 425˚F. Cut the pumpkin in half and scoop out the seeds. Cover the bottom of a 9×12 (or larger) baking dish with a piece of parchment paper. Place the pumpkin halves with the flesh down on the paper, and cover with foil. Bake for 1 hour or until the pumpkin flesh is completely tender when you poke it with a fork. Let it cool. Scoop out the flesh and purée all or part of the pumpkin in a food processor. Check to make sure there are no lumps, and if you find any, pulse again until completely smooth. Move purée to a strainer and strain over a mixing bowl while you're making the cake batter. (Note: if you skip this step, your cake will be delicious but overly moist.) Measure out 2 cups of purée, and set it aside for the cake.
3. Make the batter: Grease a 10-inch (3 quart) nonstick Bundt or tube pan lightly with ghee. Then lightly flour the pan, inverting it to tap out excess flour. Preheat oven to 350˚F.
4. Whisk together flours, xanthan gum, baking powder, baking soda, salt, and spices in a mixing bowl. Set aside.
5. Whip the ghee in a separate large mixing bowl with an electric mixer for about 2 minutes. Add the sugar and beat well. Add the eggs, one by one, beating briefly on a low speed after each addition. Add the vanilla, and mix.
6. Using a spatula, fold the pumpkin purée into the egg mixture and stir until completely mixed. Then, fold in the flour and spice mixture. Mix until the batter is just smooth. Spoon the batter into the pan and smooth the top.
7. Bake 50 to 55 minutes or until a wooden pick or skewer inserted into the center of the cake comes out barely clean. Let cool two hours in the pan; then invert the pan onto a rack and let the cake cool completely before slicing. Cover the cake in a domed container but do not refrigerate. Keeps for three days.
8. Make the maple sugar glaze (optional): Grind maple sugar in Vitamix or professional quality blender to a powdery texture. Combine glaze ingredients in a small mixing bowl, and beat at medium speed with an electric mixer. Drizzle over a cooled cake. Let the glaze set at least 30 minutes before serving.
Cook's Tip:  Bake the pumpkin the day before.
Ayurvedic Notes: Almond and oat flour have some additional nutritional value (compared to gluten-free mixes) and both are easy to digest. Both do, however, increase kapha somewhat, as will sugar of any kind. As mentioned above, coconut sugar has a lower glycemic index and calorie count than maple sugar, but maple is said by Ayurveda to be strengthening to the body. Pumpkin is fine for all doshas, in moderation, as are the spices, making this a good dessert choice on occasion. This cake is made with almond milk as a dairy substitute, as milk and eggs are considered an unhealthy combination. Without the glaze, this is also a low-sugar recipe, making it a fine dessert when eaten in moderation.  Enjoy it with the glaze for a special occasion!
If you or your kids plan to eat a lot of Halloween candy, then I highly recommend that you plan a pot of Mung Soup with Vegetables for the day after!
According to Ayurveda, mung beans are one of the healthiest foods on the planet and the  greatest source of vegetarian protein, because they're so easy to digest. This soup is made from whole mung beans, which have a scraping action. Translation: eating cooked mung beans will detoxify the body, specifically the colon, liver, kidneys, and the lymph system.
You can make a simple mung soup with a few spices and serve it with vegetable sides or, as I do, you can cook the soup with vegetables to make it a heartier dish. My preferences are Swiss chard and winter squash or a combination of chard, sweet potatoes, and zucchini.
I like to use a slow cooker, which can be invaluable for vegetarians and omnivores alike. There are, however, a few tricks that make a Crockpot® meal worth savoring. Instead of loading all the ingredients at the beginning of the cooking time—whether that's before you go to bed or before you leave for work—save a few specific steps for the last hour of cooking:
1. Warm powdered spices such as cumin, coriander, and turmeric in ghee or oil on your stove top and add them to the slow cooker about 15 minutes before serving. (If you leave spices in the cooker for 6 to 8 hours, they can actually burn … says the voice of experience.)
2. Also add any fresh herbs in the last 15 minutes.
3. Steam any vegetables 10 to 15 minutes before finishing the soup—and, to add to the flavor, you can do this with salt, ginger, and (optional) garlic. If you prefer, you can add greens such as kale or chard, in the beginning. Other vegetables, particularly squash or sweet potatoes, tend to get too mushy if cooked all day.
4. If you're adding chopped onion, about 30 minutes before serving slowly brown the onion in ghee or oil until it caramelizes. (If you use shallots instead, they will brown in 10 minutes.) This additional step will infuse your final dish with a layer of flavor that you just won't get by cooking onion in water or stock all day.
You can apply these tips when you cook this hearty mung soup recipe. If you prefer, and if you have the extra time at home needed to cook the beans in a regular soup pot, you can make this as a one-pot dish. I make this hearty soup once a week on an ongoing basis because it helps to keep the digestive system clear. When mung soup is served during panchakarma (Ayurvedic detoxification) programs, it's very simple: cooked mung beans, salt, bay leaf and a few spices. When I'm cooking at home, I sometimes add onions for extra flavor and I often add vegetables for a more substantial dish. It's a thick soup so it may suffice for your meal, or you can serve it over quinoa or rice.
Finally, thanks for your patience awaiting new recipes! I've been busy launching
Sacred & Delicious: A Modern Ayurvedic Cookbook. You can find it at most independent book stores, or they will order it for you if you like supporting your local merchants. You can also find it at Amazon.
Enjoy this Mung Soup recipe every time you need an easy meal…or an easy detox!
Lisa J. Mitchell
If you like zucchini, you will love Creamy Zucchini Soup. This tasty soup will help you make an easeful transition from summer to fall. And another thing about this dish that is great is that it takes no more than 20 minutes to make, start to finish!
During September and October, and even into November in some places, zucchini is being harvested before the first big frost. As the nights are getting cooler in many parts of the country, this warm, gingery vegetable soup is a perfect accompaniment to a veggie burger, a pasta entrée, or a sweet potato stuffed with black beans! As cold and flu season approaches, one Read More
Ayurveda's common-sense dictum is that opposite qualities balance one another—whether in the body, the mind, or the emotions. So, to quell the last of the summer heat, I call for balance and say, "Bring on the cucumbers!"
In this lovely summer soup, the cooling power of cucumber is augmented by coconut milk, cilantro, and mint, all which cool the metabolism even further. Fresh ginger, cumin seeds, black mustard seeds, and lime all aid digestion besides being richly flavorful. They are also warming foods, which bring balance to the dish for vata and kapha types, who tend to be cold natured.
Ayurveda identifies the healthiest meal as one that provides all six tastes in one sitting. Those six tastes exist in this one very simple dish: Read More
A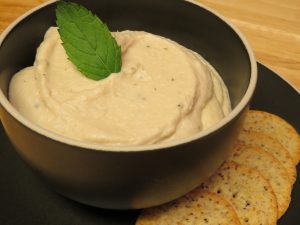 few days ago my husband, Tom, walked into the kitchen and asked if we had any white beans. I thought What on earth for? and then, more politely, asked, "Why?"
"Thought I'd make some white bean hummus." He smiled and assured me he'd get it started after golf, despite a 2:00 p.m. tee time. Although he has created some great dishes, this was not going to happen, I knew.
I said, "What if I make it instead?" Ask and ye shall receive! I must say, though, that it Read More
I tasted this scrumptious cauliflower dish at The Well Fed Community Garden in Raleigh in late May when Arthur Gordon, of Irregardless Cafe fame, created the dish on the spot! He gathered up whatever looked fresh and interesting at the farmer's market along with herbs growing in the community garden and—voila!—came up with this amazing dish! I've adapted it only slightly to serve eight instead of eighteen and made it a tad milder so it doesn't bring on more heat in this sweltering summer.
The complete dish is a cauliflower "steak" that is rubbed down with a mixture of fresh herbs, roasted or sautéed, and topped with a red pepper cashew sauce. The first time I made this myself, I ran out of time and served only the first part of the dish, pictured here— Read More
With temperatures already in the upper 90s and above across the southern half of the country, we can expect a long, hot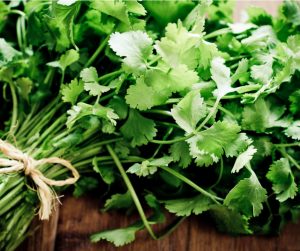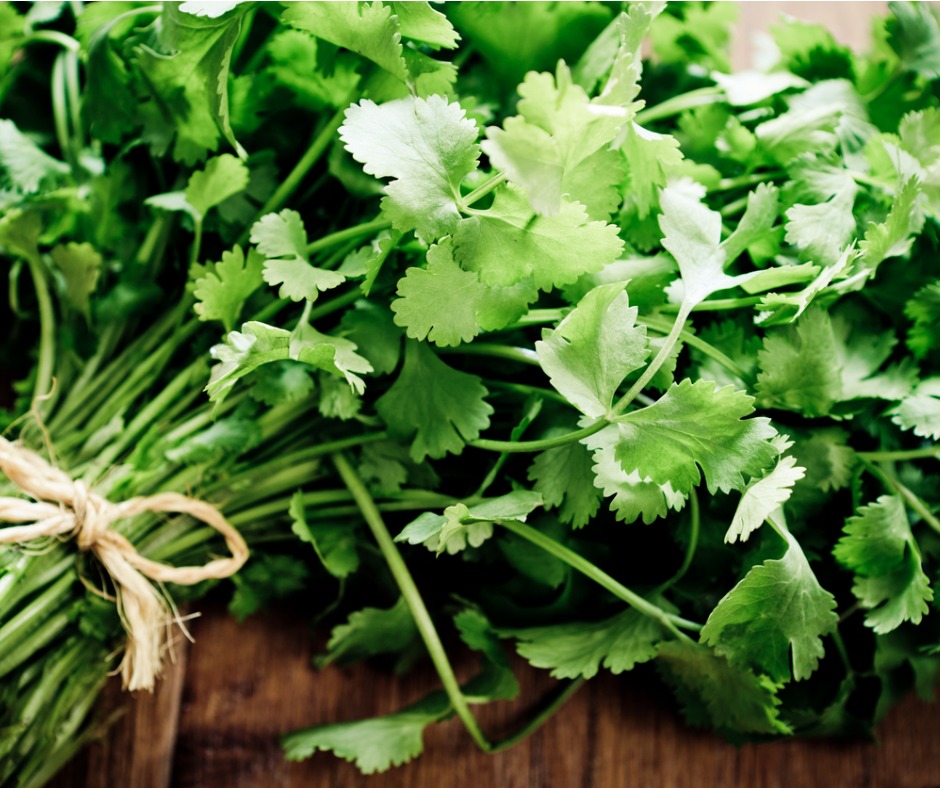 summer. Fortunately, Ayurveda has some excellent tips to help keep your body, mind, and emotions in balance—even in scorching heat!
According to Ayurveda, pitta—the dynamic principle of heat—is necessary to maintain life, but during the summer when our bodies can easily become overheated, pitta gets out of balance. Too much heat can trigger a host of physical problems, including acne, headaches, and hyperacidity. If you wake up at three or four in the morning and can't fall back to sleep for an hour or longer, Ayurveda says it's a sign of excess heat in the body. Read More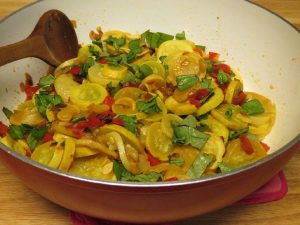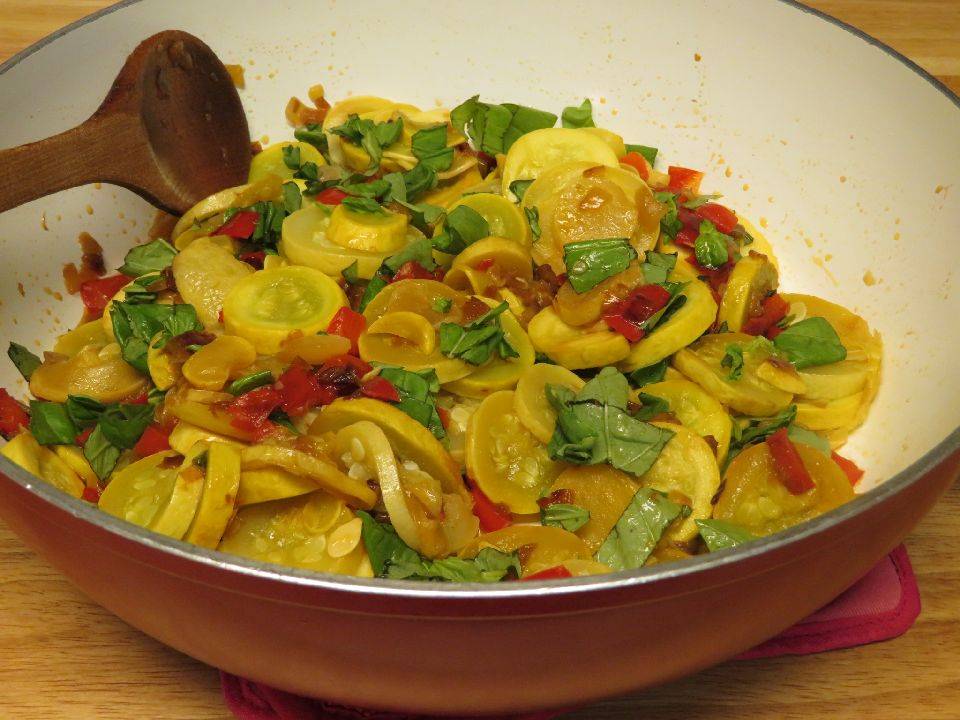 Long before the June solstice, summer is heralded by Memorial Day, picnics, backyard barbecues, and abundant yellow crookneck squash. This colorful squash dish with red bell pepper and fresh basil or dill (suit yourself) is great for summer entertaining, and it travels well to a potluck.
I tasted something like this dish once at a potluck supper way back, and of course, since I live in the South, it would have been smothered with cheese. I think this dish proves the winning possibility of creating a casserole without cheese that everyone will still love — Read More
You may recall that I promised a new asparagus recipe still in its gestation period. Today I'm delivering it: Vegan
Asparagus Wraps. What I love most about these wraps is that, in my humble opinion, they fit into the category of fun foods. Children (or adults) who say they don't like vegetables may just try something new if it looks like it might be fun to eat—and anything in a wrap looks like it's hiding a secret treasure.
Cook the asparagus until just tender, and you'll hear a crunch with every bite, which creates a pleasure sensation. Crunchy food involves all five senses—you see it, smell it, touch it, taste it, and hear it—amplifying the pleasure explosion in your mouth. (For this reason, I suggest that you buy stalks of a medium thickness rather than the pencil-thin spears, which can Read More