A Chocolate Valentine's Menu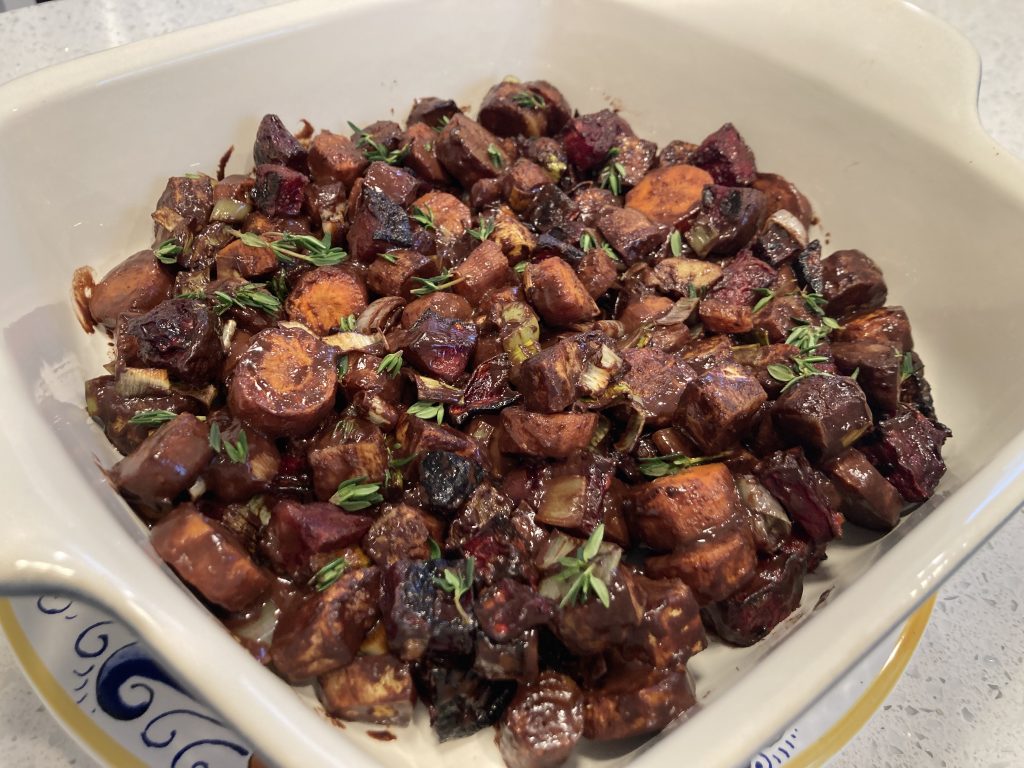 In the spirit of my periodic tribute to the 2000 movie Chocolat, today I offer readers this divine recipe for Roasted Root Vegetables with Chocolate Glaze. It's just one in a series of dishes I've been developing over the years to imitate the chocolate-themed meal in one of movie history's great food scenes!
Vianne (Juliette Binoche) is a chocolate shop owner in a small French village who gives a small birthday party for her older friend, Armande (Dame Judi Dench). Vianne serves an entire meal accented with chocolate sauces that you can almost taste while watching the scene, as guests make murmuring sounds of ecstasy.
I always thought it would be fun to create a vegetarian or vegan meal with the same theme and equal elegance. So, now I am adding another option to such a menu. This root vegetable recipe can be created as a savory dish, with complementary flavors of sweet, sour, and pungent by using leeks or onions plus a bit of good balsamic vinegar. Or you can skip those ingredients and just go for sweet!
Have fun preparing a love-filled meal for your sweetheart or family and friends. (Even your kids may enjoy these Roasted Root Vegetables with Chocolate Glaze!)
PS For a more complete chocolate meal, try these dishes. First course: Savory Sweet Potato Soup with Mushrooms & Chocolate Swirl. Desserts: See my Vegan Chocolate Cake, Vegan Flourless Chocolate Cake, Vegan Fudge Brownies, OMG Chocolate Chip Cookies, and double chocolate chip cookies, and puddings here.
Print