A Sweet & Savory Soup for Valentine's Day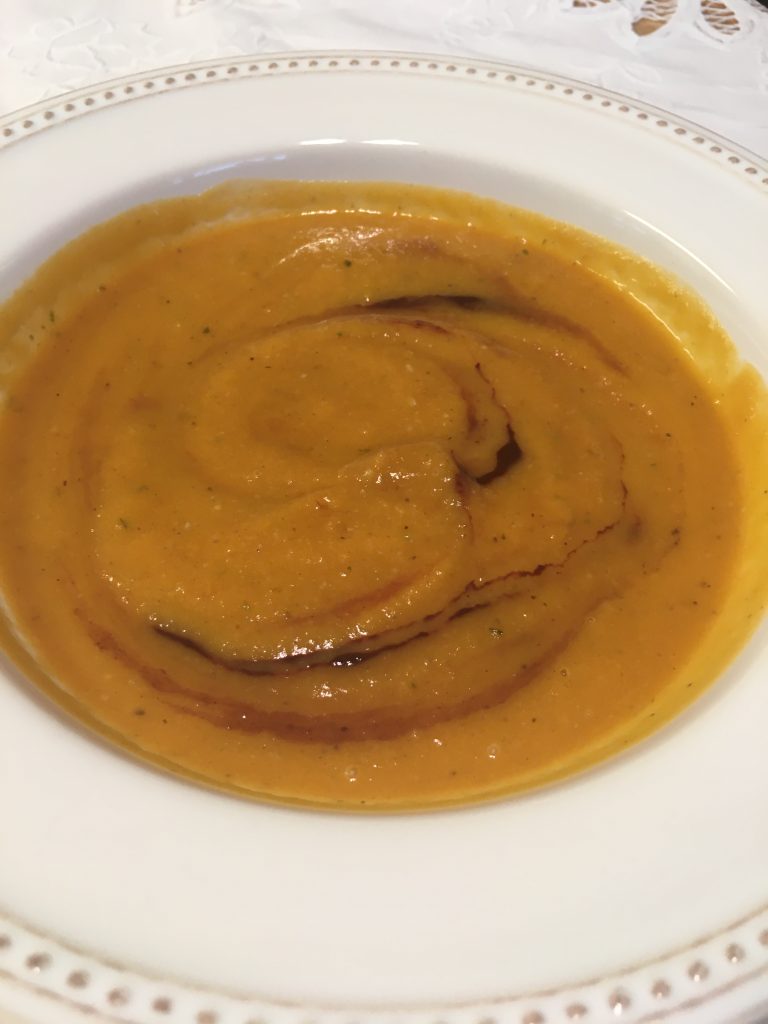 As you plan an alluring vegetarian or vegan meal for Valentine's Day, I invite you to sample this unique Savory Sweet Potato Soup with Mushrooms & Chocolate Swirl!  I owe its inspiration to one of my very favorite and utterly charming movies: Chocolat.
In the movie, the main character, Vianne (Juliette Binoche) opens a chocolate shop that is considered too great a temptation in a conservative French village. If you watch the movie, you'll see amazing delicacies that will have you lusting after chocolate! One of the movie's more memorable and talked-about scenes features a chocolate-themed luncheon that Vianne hosts for a friend's birthday in which chocolate sauces accompany every dish. Her menu features a large turkey and a pork roast, though I've often wondered what that meal might look like for a vegetarian feast. Today's sweet and savory soup is my attempt at the first course!
I chose sweet potatoes because I wanted to make a velvety smooth purée that would go well with a hint of chocolate. I added shiitake mushrooms, cumin, coriander, and rosemary to ground the flavor with earthy notes. And I love the shiitakes for their immune support during the cold and flu season. I included a fennel bulb for its light, almost perfume-like scent. Cooking the onion long and slow to caramelize it completely adds a richness that only caramelized onions can bring to a dish.
This soup is quite delicious without the chocolate addition. But, my friends, if you want to create a memorable Valentine's meal, I promise your guests will talk about this soup long after February 14th! Just a little swirl of melted dark chocolate chips takes the soup from lovely to exquisite (if I do say so myself)!
Cook this Savory Sweet Potato Soup with a lot of love and a swirl of chocolate, and everyone at your feast will experience a moment of divine bliss! Happy Valentine's Day!
Print