Vegan Valentine 2021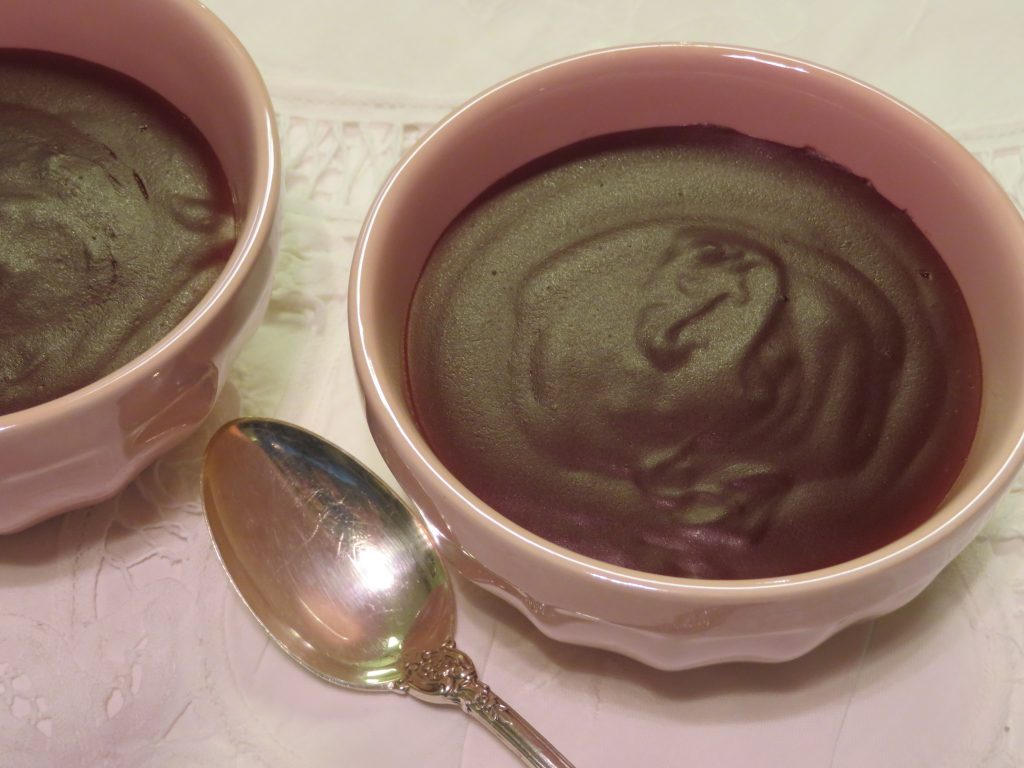 Today I decided to try making a Vegan Dark Chocolate Pudding, in case my readers are looking for a new dessert on February 14—the joyful (if commercial) holiday of chocolate love. I had never tried making pudding from scratch, the exception being rice pudding (which is also divine). So, I asked Annapurna, the goddess of food and nourishment, to be my coach. The first try was oh so good and I'm happy to share the recipe with all of you!
When we were children, my brother and I loved the My-T-Fine Chocolate Pudding our mother cooked on the stove top. She would pour the sugary package contents into a pot with milk that she would patiently stir as the contents slowly began to steam and thicken. The directions on the box said to put plastic over the warm pudding to avoid the formation of a "skin." But in our house, we liked the skin best!
Why Vegan Pudding?
Even if you are not vegan, there are still good reasons to avoid dairy in the quest for optimal health. As my regular readers know, I still cook with ghee, which is clarified butter (meaning the milk solids have been removed). Ghee is recognized for its healing properties in Ayurveda.  However, I no longer drink milk or eat cheese, because I find them hard to digest and they cause congestion. Many modern Ayurvedic practitioners recognize dairy as a source of ama, toxins that form in the gut and lead to inflammatory diseases.
As a child, I didn't know that gelatin is often made from horses' hooves, and when I became a serious vegetarian, I could no longer bring myself to eat commercial puddings. (The My-T-Fine brand uses a plant-based thickener called carrageenan, but that comes with its own problems, including  gastrointestinal problems for many people. It also includes red, yellow, and blue dyes.) Surprisingly, I never tried making my own vegan version until today!
After stirring my first test batch of homemade vegan pudding on the stove for about 15 minutes, it was ready to pour. The chocolate mixture flowed like lava from the spouted pot into small dessert bowls. Soon I began to gaze into a bowl to see if a skin would form using coconut milk instead of dairy. As I looked more closely, I was shocked and delighted to discover the image of Lord Ganesh staring back at me! I do not lie: the image had formed all by itself.
Ganesh, the elephant-headed deity from Indian tradition, is known as the playful and healing remover of obstacles—an aspect of the one great divine intelligence. During the 30-plus years that I've studied yogic philosophy (a journey that began on Valentine's Day 1987) I've learned about the deities described in ancient Indian texts. What was Ganesh here to tell me today? My first thought was that he had shown his face to remind me that I am not the doer. That the divine Knower that exists in everyone and everything always works through me when I create. On further contemplation, I remembered that each one of us sees the world as we wish to see it—or, at least, through the lens of our own experiences.
Long ago I began looking for signs of the divine play in nature. It's easy to find heart-shaped clouds, flowers, and stones, and I often see images of Lord Ganesh in the sky—the sweep of his trunk, the curve of his belly! Once, when my husband and I were in Arches National Park in Utah, I saw a giant-sized statue of Hanuman, the monkey-god, carved into rock by millions of years of geological forces. I swear that Shri Hanuman's image was clear as day to one who can see.
During this pandemic, when millions are struggling each day for their very survival or for their next breath, may all of us who have the privilege to eat chocolate pudding recognize our good fortune. We may not be able to party in public, but we can enjoy the blessing of delicious food in the safe comfort of our own homes.
PS Looking for other chocolate dishes? Try any of these delicious options from the Sacred & Delicious Blog, all vegan and gluten-free. Chocolate Chocolate Chip Cookies, Chocolate Heart Cake, Fudge Brownies, Savory Sweet Potato Soup with Mushrooms and Chocolate Swirl.
Print