Creamy Broccoli Soup for a Vegetarian Valentine's Day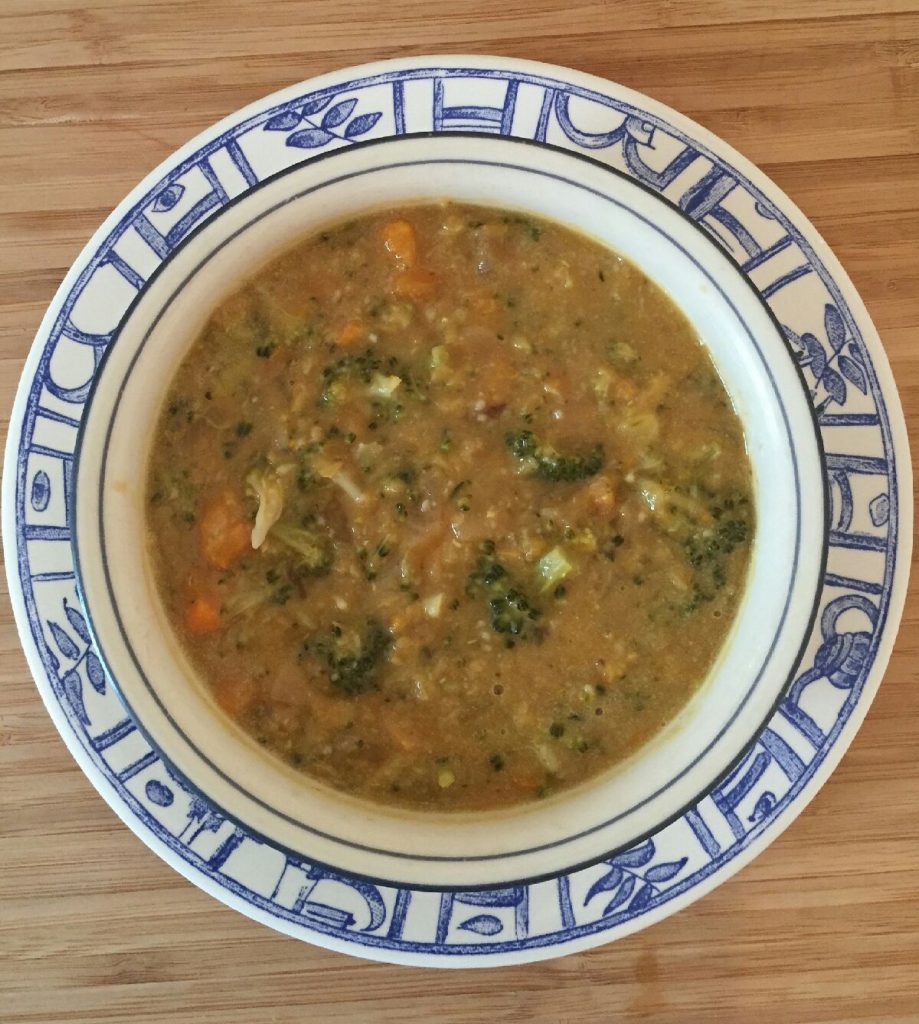 If you're still pondering what to make on Valentine's Day to balance the chocolate you're planning to devour, consider this creamy broccoli and sweet potato soup recipe that I created just for you, dear readers! This recipe was born of a desire to take broccoli soup to an unexpected place after finding nothing but broccoli-cheese soup on restaurant menus for decades! And it fits nicely into the niche of hearty soups that can serve as a one-dish meal for busy cooks, with red lentils serving as a protein base.
I use fresh almond milk made in our Vitamix to make it "creamy," but, of course, you can use boxed almond milk if you don't want to add another 5 minutes to your cooking time. Shiitake mushrooms and a bit of wine (ingredients I've been playing with recently) seem to add a flair of elegance, yet it's all so easy to make. I promise it will taste finer still if you use home-made stock, and you can make stock with just 10 minutes of labor.
This soup pairs nicely with any of your favorite salads, if you'd like to add a side dish. We'll start dinner with a barely warm arugula salad that's topped with roasted beets and sweet-and-salty roasted pistachios … maybe a little bit of goat cheese for a treat, all drizzled with a simple lime vinaigrette. Just whisk together some olive oil, fresh lime juice and Bragg Liquid Aminos, to taste.
Finish your meal with a little bit of dark chocolate for ultimate bliss! Usually just one chocolate truffle is enough to satisfy my chocolate craving, but if you'd like to bake something divine, try this gluten-free molten chocolate cake recipe that came into my in-box.  Or if you're looking for something that's more fun for the kids, here's a link to my gluten-free OMG Chocolate Chip Cookies.
Now, where's the "sacred" in this Sacred & Delicious menu, you may ask? Well, it's all about the love you add to the food, of course!  Let your taste buds savor this new approach to broccoli soup♥
Print