Healthy Comfort Food 2023 Spring Edition: Gluten-Free Vegan Pot Pie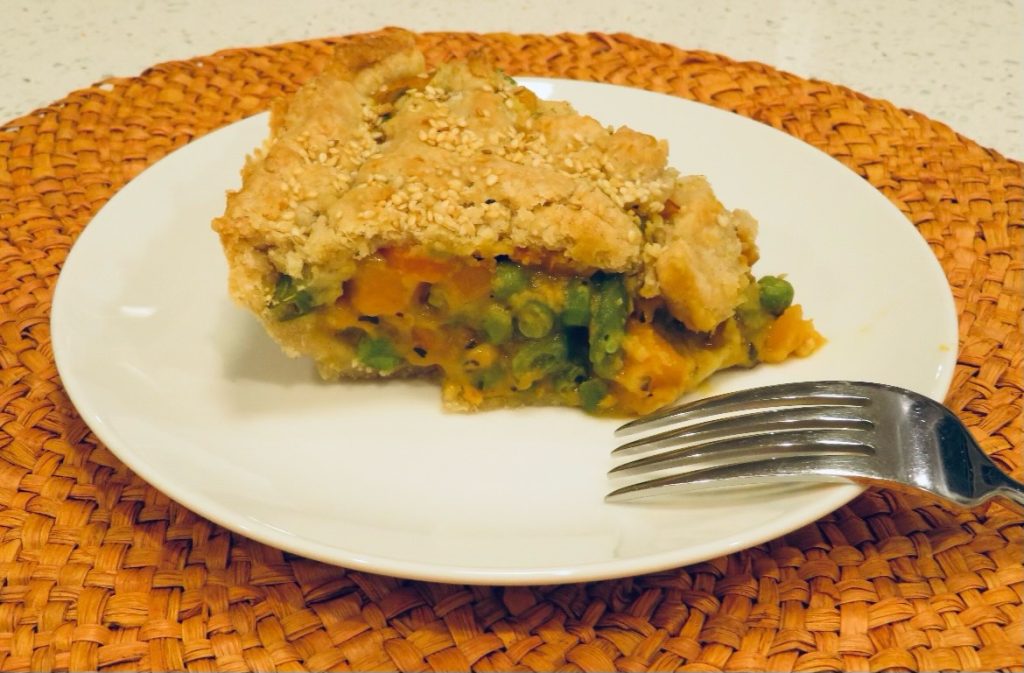 With family coming home this week for holidays and spring breaks, it's a perfect time to make a delicious—if perfectly imperfect— Vegan Gluten-Free Pot Pie. No doubt, this dish is a project if you make your own crust, so working folks will want to save it for the weekend unless you make the crust the day before and refrigerate it.
I call it perfectly imperfect because I am not a pie crust aficionado. Although my mother was an excellent (and revered) math teacher, she was not a baker, so I never learned to make pie crusts by her side. My friend and baking mentor, Martina Straub, helped me perfect a spelt crust many years ago when I was hoping that low-gluten goodies were good enough to support my health. But alas! I needed to go 100 percent gluten-free to heal my gut and related inflammatory conditions.
The challenge of gluten-free crusts
Anyone new to gluten-free baking has likely wrestled with a piecrust or two because GF flours lack the protein elasticity that makes a piecrust easy to form, roll, and deliver in one piece to its dish.
Of course, you could use a ready-made crust, in which case you may want to cut back on the vegetables by a cup or more — or see if this recipe will fill two pies.
You could also use the recipe from The How Can It Be Gluten Free Cookbook from America's Test Kitchen, but their flour mixture includes nonfat milk powder, a no-no for vegans and anyone else who avoids dairy. So, I have been on a mission to create my own GF piecrust, one that is tasty, flaky, and easy to handle.
This recipe gets an A in our neighborhood for tasty and flaky. I will acknowledge that it needs more work for easy to handle, so stay posted for updates. Still, the overall dish is so delicious that I don't want to make pot pie lovers wait another month (or season) until I perfect it! As my friend and neighbor Gena Brown said, "Perfect shmerfect. Delicious is what counts!"
The experiment continues
This crust recipe works fine for the bottom of the pie pan. Unfortunately, the top crust fell apart when I tried to mount it over the vegetable filling. I used ⅓ each King Arthur Gluten-Free Multipurpose Flour, sweet sorghum, and oat flour. Xanthan gum supplies some elasticity to the GF flours; without xanthan gum it's impossible to roll out the crust. Arrowroot is an excellent binder. I find that Apple cider vinegar is required to make the crust flaky rather than hard.
In my next experiments I'll try ½ and ½ King Arthur and one of the other flours. Stay posted, as I'll note that there's been a pie crust recipe update!
Whether you're celebrating Easter or Passover with vegan dishes, enjoy this perfectly imperfect Vegan Gluten-Free Potpie!
Print