Delicious Vegan Casseroles for the Holidays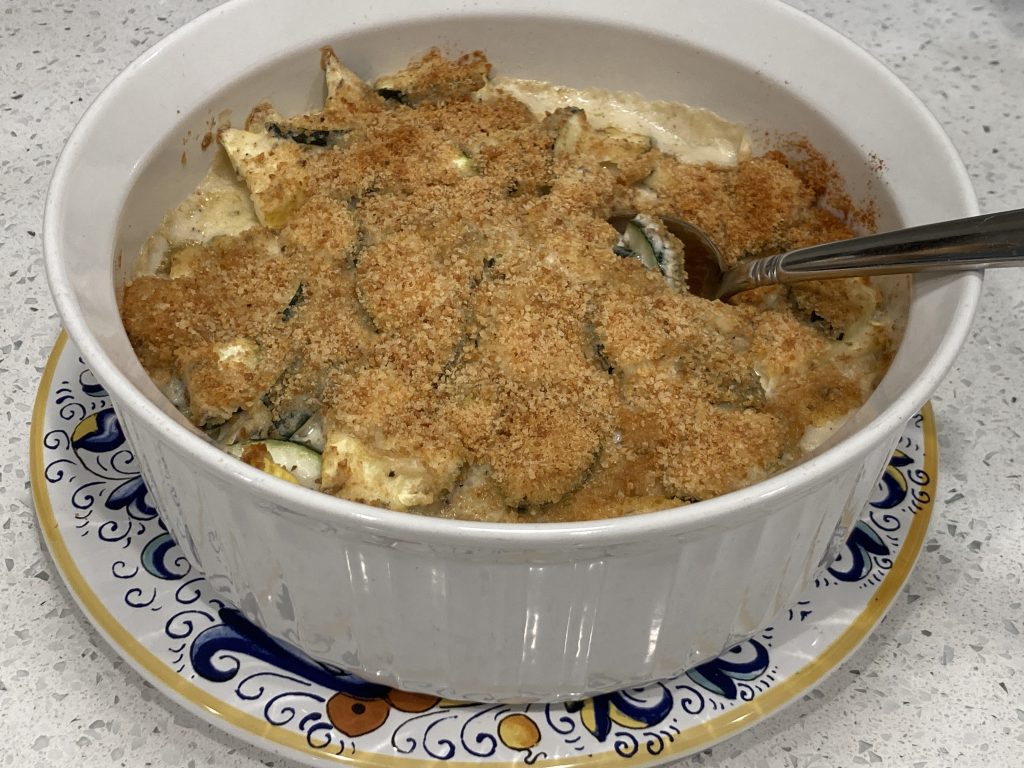 I rarely make a casserole for the two of us, but when it comes to convenience, there's nothing quite so simple as this Easy Vegan Squash Casserole. It's the kind of dish that you can make the day before and pop into the oven while you're cooking other parts of your holiday menu. It's a perfect addition to any potluck and a delicious way to balance all the season's sugary meals!
Of course, every recipe on my blog is always gluten-free. (This Reimagined Green Bean Casserole is also awesome and worthy of your Hanukkah, Christmas, or New Year's table.)
Recipe Tips
You may think of zucchini and yellow squash as a late summer and early autumn dish, but these days organic squash of all varieties can still be found in most markets.
I sautéed the onions before mixing them in with the other ingredients because that will make the outcome a more mellow—and I think tastier—dish. Onions turn sweet when sautéed, which gives them time to become golden and begin to caramelize while you're prepping the vegetables and other ingredients.
I used the Kite Hill vegan sour cream made with almond and coconut milk to make the casserole rich and creamy, but you may have similar success using a vegan yogurt.
About Vegan Dairy Products
All the dairy-free sour cream and yogurt products I've found—as well as cheeses—include some guar gum and other starches as thickeners and binders. Although the FDA claims guar gum is considered safe for consumption, by its very nature gum is sticky. According to Ayurveda, sticky foods can lead to toxic build-up in the colon, and toxicity (which contributes to inflammation) is the major cause of most disease processes in this ancient medical model.
Maltodextrin is another starchy food additive used in the Kite Hill sour cream and other vegan dairy products. I contacted Kite Hill as I was curious to know the source of their maltodextrin since it's often made from wheat or corn and the product is certified gluten-free. The Kite Hill maltodextrin is made from tapioca starch. A note to diabetics: maltodextrin can spike blood sugar, although a small portion is considered a non-issue.
Those of you who follow this blog know that I consistently advocate for fresh food to sustain vibrant health. I usually hesitate to eat or cook with vegan dairy products—but I indulge a few times a year for a tasty treat!
As the holidays approach, I wish you joyful and delicious food adventures, including this Easy Vegan Squash Casserole.
Print