Transition Dishes from Winter to Summer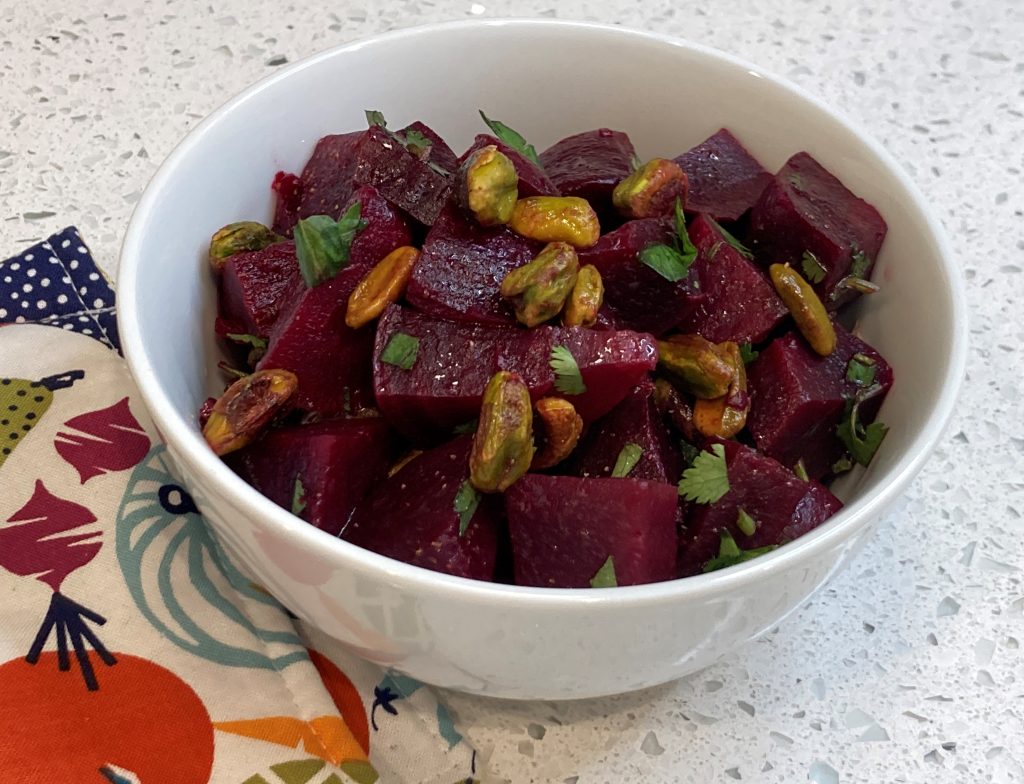 Although beets and other root vegetables are often associated with winter meals, beets are also a perfect vegetable for springtime—which inspired me to offer today's new recipe for Beet Salad with Roasted Pistachios.
Although the southeast is spectacularly beautiful now, with azaleas and flowering trees in full bloom everywhere, we still have some nights dipping into the mid-30s. Windy days make for chilly walks when it's 60 degrees. The next day surprises us with 82 degrees (perfection!) which is why I think this is an excellent time for transition dishes. Beet salad is wonderful in the role.
This is an easy recipe, and the beets can be cooked in an Instant Pot. It's also totally fine to steam them on the stove in a standard pot. You could also roast the beets, but that takes more time. And once the weather warms, I try to avoid roasting or baking because the oven overheats the house.
You can serve this salad or side dish warm or at room temperature, depending on the weather. I like it just as the recipe is written, but you can also serve this dish over some soft greens such as butter lettuce.
Beets are a little bit heating, according to Ayurveda. So, if it's an especially hot day, fresh cilantro and/or mint will help balance this aspect. The beets' heaviness is grounding for vata, which is a plus any time of year. The nuts add a flavor burst and crunch that propel the beets from ordinary veggies to a dish will elicit responses of "yum" from your guests!
Enjoy this Beet Salad with Roasted Pistachios during these amazing days of spring and throughout the year!
Print