Chocolate Decadence for Special Occasions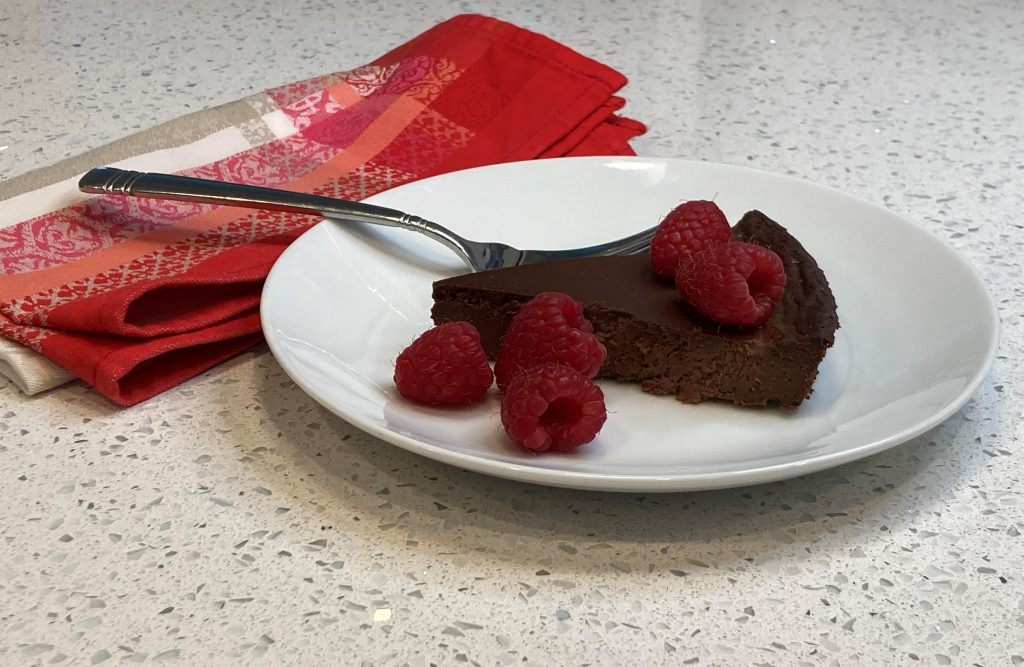 As my regular readers know, I always make space in my healthy and delicious life for special occasion decadence, which is why I'm excited to share a recipe for Gino's Flourless Chocolate Cake.  What could be more perfect for Valentine's Day!
This recipe was inspired by the most delicious flourless chocolate cake I ever tasted, which was at a restaurant whose chef, the late Gino Izetta, was my friend and cooking mentor. Although this was many years ago, I still remember the euphoria that accompanied each bite! The cake featured wonderfully rich dark chocolate, just sweet enough but not overly sweet. It was perfectly smooth and creamy, and it melted in my mouth.
Recently I reached out to his widow, my dear friend Janis Pettit, to ask if she could find a recipe that he may have left behind. She found a notebook with handwritten notes. Though the directions were incomplete, she kindly typed them up and sent the notes along for me to play with and adapt.
In three tries, I came up with a version that I believe will delight any chocolate lover (with thanks for whisking help from my cooking assistant Eliza Hearn). One taster who prefers milk chocolate still loved this cake and ate every bite. The texture is much like a mousse, so if you want to display a whole cake for guests, you will want to bake it in a springform pan, which will allow you to plate it. I gave mine away last year because I haven't baked a cheesecake since I gave up dairy, so I baked mine in a simple 9-inch cake pan—which is also how Gino made his.
Our first batch came out a little dry based on Gino's notes. Perhaps his large eggs were larger than the ones we used. So, on the second test, we added some high-fat coconut milk. (I avoid using the canned milk and haven't enjoyed any boxed coconut milk I've found in grocery stores, so I order Ayor-D, my favorite brand, online.)
The first two rounds of cake batter were sweetened with coconut sugar; the results were quite good but had a bit too much of a molasses flavor for some tasters and also had an astringent quality on the tongue. The third cake was made with maple sugar (crystals, not syrup). The third time was the charm for me, though all three versions received many "wow" responses from tasters! Maple sugar is the most expensive sugar I've found, and coconut sugar isn't cheap either. I splurge on them for desserts to avoid eating refined white sugar, which is highly inflammatory, while recognizing my good fortune to be able to afford a healthier choice.
From an Ayurvedic perspective, dark chocolate increases vata and pitta. The high fat increases kapha as well. That's why I save this kind of treat for a special occasion, which is best eaten in moderation, dear readers!
As with any cooking, the quality of your ingredients is essential for the best-tasting outcome. Look for a high-quality baking chocolate such as the baking bars by Guittard, Ghiradelli, and Scharffen Berger. Enjoy a slice of this delectable Flourless Chocolate Cake on Valentine's Day or any special occasion when you want to express your love with chocolate!
Print