Plan Summer Entertaining with Delicious and Inclusive Menus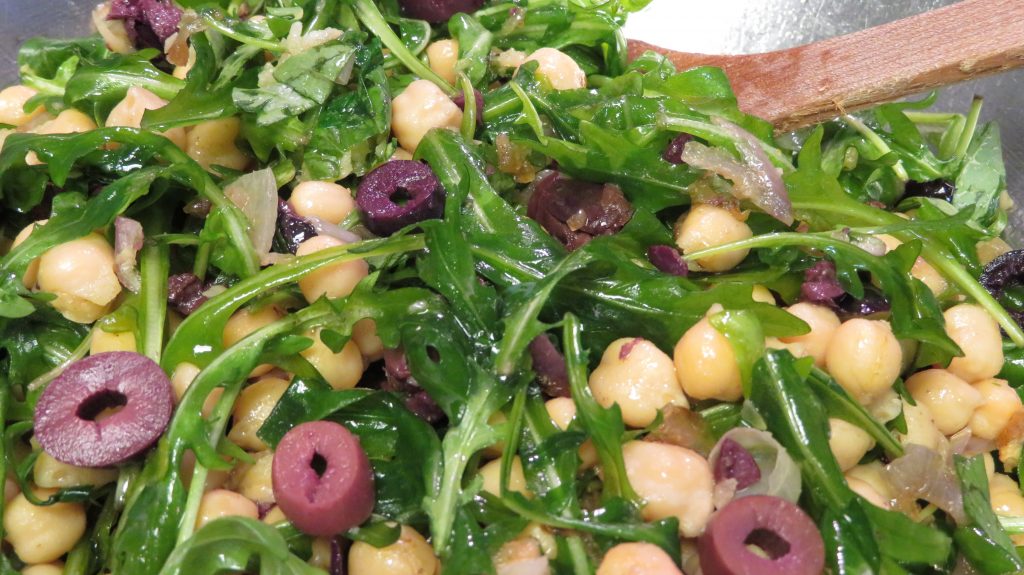 This Simple Chickpea Salad is not only delicious and easy, but will also wow everyone this Memorial Day, from omnivores to vegans to gluten-free diners. I will take this holiday prelude as an opportunity to remind my omnivorous readers how thoughtful it is to provide a vegan protein when you're serving a group of partiers with diverse dietary needs.
I am always delighted when a host checks with me about our food preferences and sensitivities prior to a dinner party—because my husband and I have several! In addition to avoiding all animal products (except ghee), we also avoid nightshades, including chilies and cayenne. I got such a call this week as a friend is thinking ahead to a Memorial Day reunion of vaccinated friends who haven't seen each other since the pandemic started. I was so grateful for his considering our needs that I thanked him repeatedly!
Many are not yet awake to those concerns. Long ago I learned that I'd better take a vegan gluten-free entrée to a potluck so that my husband and I do not go hungry. And for hosted meals, I know to gently inquire about the menu in advance. If the host responds, "Oh, we'll have a big salad, so you'll have something to eat," I politely offer to bring a dish to add to the festivities (and ensure we are satisfied)!
Please note that a vegan protein is the best way to satisfy a vegan's hunger. A pot of mashed potatoes will not do the trick—especially since it's typically made with milk and butter! If you are hosting a Memorial Day event or another dinner party where you are providing all the food—and if you know vegans or vegetarians will be among your guests—it would be exceedingly gracious to cook a dish that will meet their needs while delighting your whole party. If you are not confident about how to meet your guests' special needs, don't be shy about asking for clarification about what foods they avoid. I assure you they will be grateful, as I was. In a pinch, store-bought hummus will satisfy most people.
Speaking of hummus, recently I've been on a chickpea kick. You will find my sesame-free hummus recipe here. (This dried legume is more commonly known among Spanish-speaking people as garbanzo). Of course, you can substitute any favorite legumes in today's recipe, whether black-eyed peas, black beans, kidney beans, or pintos. Still, the visual contrast of the arugula and olives called for in this dish works best with the lighter colored chickpeas.
If you soak the chickpeas the night before, this is a quick dish to make. It travels well to any event, whether for a picnic or for an indoor lunch or dinner. Enjoy this Simple Chickpea Salad as you launch the summer season!
Print