Can't Get Asparagus out of My Mind!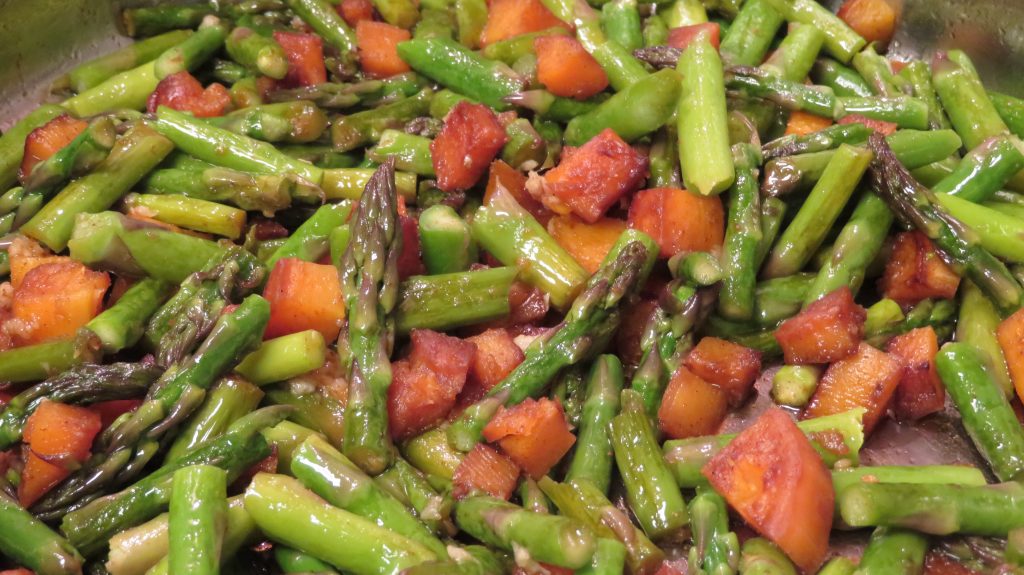 That's the sum of it: organic asparagus spears are still available so I'm using them every which way, whether as an Asparagus & Sweet Potato Side, in a simple gluten-free Asparagus & Sweet Potato Pasta, or as a topping for Baked Spaghetti Squash with Chickpeas & Veggies (recipe coming soon on this blog). And of course, my now famed Asparagus Soup (Sacred & Delicious, page 92, made perfect with Easy Vegetable Soup Stock (Sacred & Delicious, page 90). After all, asparagus is the culinary herald of springtime, and it must be eaten with reverence!
Today's recipe is the simple Asparagus & Sweet Potato Side. It takes about 25 minutes, tops, to make! And I'll give you my suggestions for how to bring it together with your favorite pasta.
I have a reason for pairing these particular two vegetables, and it goes beyond deliciousness. I've long put asparagus and red bell pepper on top of pasta, both for their shared Mediterranean origins and for their beautiful contrasting colors. Sadly—but importantly!—I decided some months ago to forgo eating all nightshades for the near future… and longer, if necessary. Ayurveda and functional medicine rule these out as inflammatory foods. I now have an inflammatory condition in my hands, brought about when I fractured my wrist last summer. It has not yet resolved, and so I am resolved to follow a more careful diet to help my hands recover fully. Nightshades include very popular foods: tomatoes, white potatoes, eggplant, bell peppers, and chilies.
"Necessity is the mother of invention," so they say, and that's why I started pairing asparagus with sweet potatoes. Fortunately, I've found the combination to be yummy, so now I feel no loss at all!
Enjoy this delicious duo, Asparagus & Sweet Potato Side, all spring long!
Print