Vegan Stew for Frigid Nights and Cold Days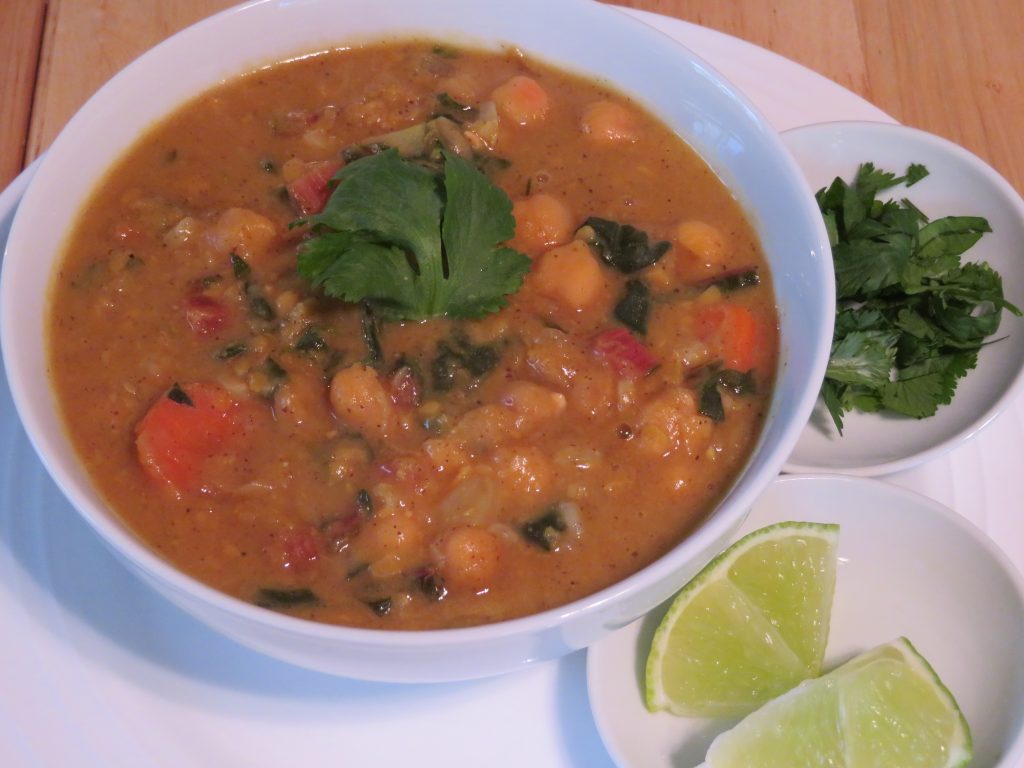 In North Carolina, we're catching the second winter storm to paralyze much of the country this week, but we have been blessed in my house to still have electric power—making it possible to invent this divinely inspired Chickpea Stew with Almond Butter. The first reviews to come in from my husband and friends who received a gift bowl are "Wow!" and "That was really delicious! Do you have a recipe?" Yes, dear ones, I do.
This recipe has some resemblance to African cooking, given the nutty flavor and spices used. No worries if you don't like super spicey foods, because I don't either. I spice just enough to be deliciously flavorful without searing the tongue! (If you would like to try a recipe for an amazing Mediterranean-style chickpea soup, see page 119 in Sacred & Delicious: A Modern Ayurvedic Cookbook, both the paper book and E-book.)
I always use dried beans rather than canned. Canning was a great invention in its time back in the 18th century. Today, the technique allows gardeners and farmers to store fruits and vegetables for the coming winter. It keeps military troops nourished when deployed overseas. While all of this is good, I'm not a fan of industrial canned food for the sake of convenience. According to Ayurveda, freshly cooked food is high in a subtle life force known as prana. Food that has been canned or frozen or that, following cooking, has sat in the refrigerator for several days has much lower prana than does fresh food. From the perspective of Ayurveda, it's the food with prana that offers the fullest support for vibrant health.
I also avoid canned goods because industrial cans leech chemicals into the food, despite many claims to the contrary. Buyer beware.
It does take a little planning and some extra time to cook legumes from scratch, particularly if you're making them on the stove top, but it's well worth the effort. I find canned beans much harder to digest, giving me unseemly "air biscuits," if get my meaning!
During this week of treacherous weather, I hope you're managing to stay safe, warm, and well-fed with a pot of healthy and delicious Chickpea Stew with Almond Butter.
Print