Easy and Delicious Resolutions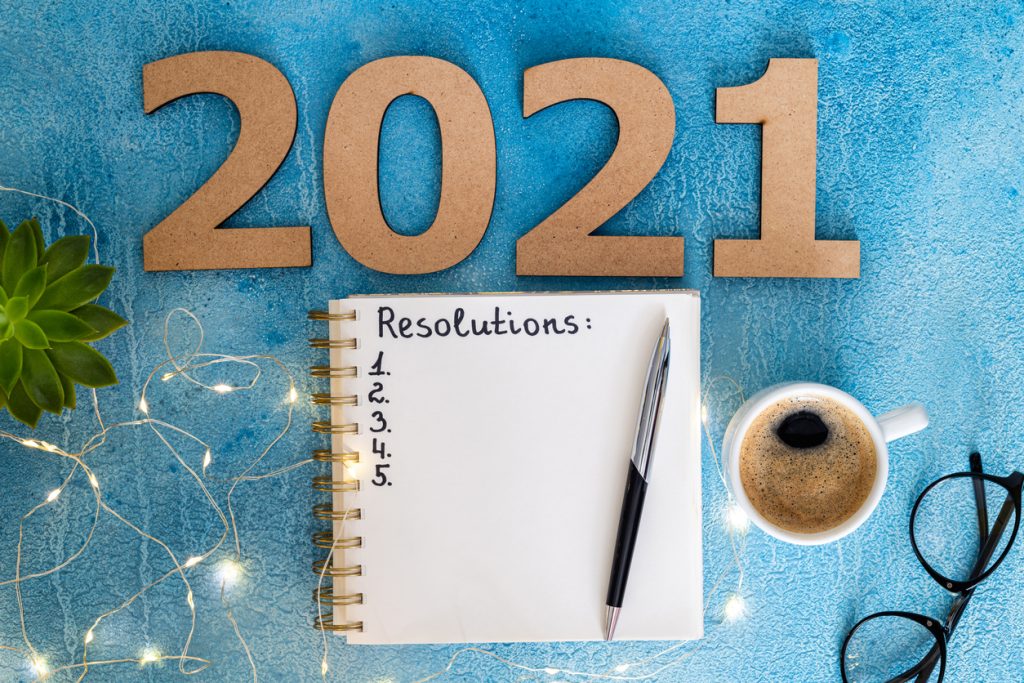 Are you someone who has struggled keeping annual resolutions regarding healthy eating or weight loss? If so, I'd like to offer you some hope and encouragement as you contemplate your resolutions for 2021. And if you want some personalized support, I have an announcement to make at the end!
When embarking on a healthy lifestyle for the first time, consider these small, easy steps that you can take to ease toward vibrant health. Even if you have been on a healthy diet for a long time, you may discover that you're not always vigilant about these important suggestions. If you can keep just one of these resolutions, you will be making progress. That alone, will inspire you to take the next steps. And remember, as far as I'm concerned, healthy food is always about delicious. Sometimes we do need to expand our experience of what is actually delicious to us, but it's always important that you relish and appreciate the food you eat.
1. Stop eating when you're full. Even better, stop eating just before you're full. Many of us eat far more than we need to live. When it comes to food, more than enough is not better. Being overly full weakens the digestive power, slows the metabolism, and leads to weight gain. In Ayurvedic terms, undigested food causes a toxic build-up in the colon that spreads throughout the body and causes chronic pain and disease. This small conscious step, to stop eating just before you're full, can increase your longevity, help with weight loss, and increase energy and enthusiasm.
2. Eat some freshly cooked food every day. Even better, eat only fresh food! Freshly cooked food has higher prana, or life force, which contributes to greater vitality. The more fresh food you eat, the less room you have in your belly for junk food—for chips, pretzels, cookies, and so on. When ordering takeout, focus on the fresh food options instead of a constant diet of pizza, sandwiches, and fries.
3. Eat more vegetables! If you haven't eaten vegetables since you were a child, invite your adult self to explore new ways of cooking vegetables, whether in a stir-fry, a soup, or a side dish. If you find some delicious new ways of experiencing vegetables, you'll expand your culinary horizons and thrill your taste buds. Let me offer just a few of my favorite examples: broccoli soup puréed with almond butter, carrot soup made with fresh herbs and coconut milk, pasta with sauteed asparagus and arugula, or pad thai with sauteed fresh veggies and peanuts.
4. Save desserts for special occasions. If you eat a healthy diet most of the time—say 80 percent—you won't create an unbearable burden for your body with an occasional dessert. Most people can manage the once-in-awhile boost to their blood sugar. (Diabetics should follow medical advice.) As I often say, I'm not one to advocate an ascetic lifestyle. On the other hand, I always feel it when I overindulge, for instance, when I eat one too many of my famous OMG Chocolate Chip Cookies when baking for friends over the holidays.
5. Go gluten-free most of the time. Even better, all of the time! I can't tell you how many of my husband's patients have lost as much as forty pounds over a period of three to six months just by cutting gluten out of their diets. Gluten is highly inflammatory for many people, even if you don't have celiac. Inflammation contributes to a whole host of problems, including memory loss, chronic pain, and other seriously debilitating conditions.
Now, it's time to pick just one commitment to make to yourself as you plan a healthier you in 2021. You can do this! I promise. Because I've done it myself, a little bit at a time over a period of a few years. Or if you're raring to embrace change with a hundred percent enthusiasm, you might consider all of them right now and just go for it!
Announcement: Drumroll, please!
If you're looking for support and a community in which to exchange ideas, successes, and occasional disappointments, keep your eyes posted for a new offering from Sacred & Delicious. My husband, Tom Mitchell, a chiropractic physician who practices Ayurveda and functional medicine, and I will partner online to lead wellness webinars and safe weight-loss programs that you can do at home in 2021.
Stay tuned for more news about the upcoming Delicious Detox!
Wishing you vibrant health in the new year!
Print