Blending Cultures for the Jewish New Year!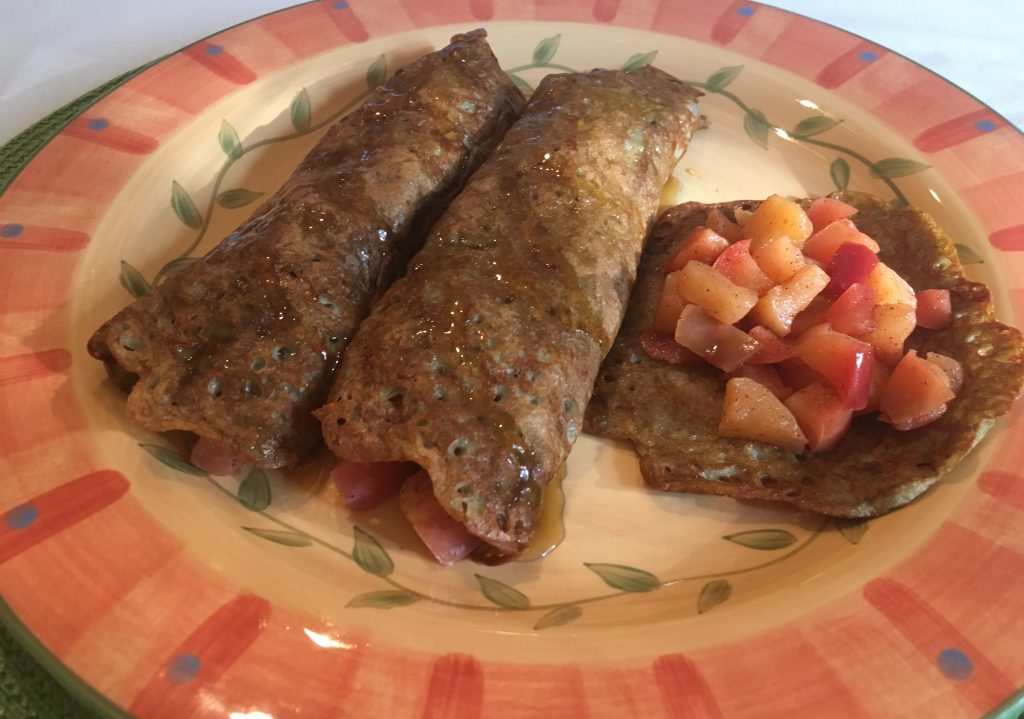 Today I offer you a must-try recipe for Sweet Mung Pancakes with Stewed Apples. This dish blends ideas from the two cultures I know best: Eastern European Jewish traditions and the Vedic culture of India. How I came to embrace Vedic culture as a Jewish girl from the American south may well be the topic of a book one day, but for now, let's focus on making something both delicious and healthy for the Jewish New Year!
As Jewish people throughout the world began celebrating Rosh Hashanah and the year 5780 at sundown on September 29th, we invoked the blessing of sweetness for the coming year by eating slices of raw apple dipped in honey. Many families will continue serving apples throughout this holy season, which culminates ten days later on Yom Kippur, the Day of Atonement.  In India—and wherever people with Indian roots have formed communities—the mung bean is recognized as one of the most important foods to grace their tables.
The traditions of these two disparate and widely dispersed cultures come together in this one dish! I first tasted a version of these pancakes at the restaurant in Vaidya Smita Naram's Ayushakti Panchakarma Clinic outside Mumbai. Unlike American-style pancake batters (which are made with flour, baking powder, and eggs), these pancakes are made with a thin vegan batter that is poured like a dosa. If this technique is new to you, check out this video. It's easy and fun to do!
Why Mung Beans?
 Anyone who has followed the Sacred & Delicious blog for some time may have deduced that one of my goals is to inspire American cooks to embrace mung beans for their many health benefits:
When properly cooked, mung beans are the easiest legumes to digest.
Mung beans are the ideal vegan protein and they're also a good source of B vitamins, especially folate.
Mung—again, properly cooked—is naturally detoxifying for the colon, liver, kidneys, and lymph system.
For all these reasons, I'm always seeking out diverse and delicious ways to eat them!
An Important Note about Honey
 Let me use this recipe to make an important point about honey, which I call for in the ingredients. Raw, unfiltered honey is a delicious natural sweetener, and Ayurveda suggests that it is the best sweetener for people with kapha conditions. If you tend to develop sinus congestion or have a cough, for you raw honey is medicine!
However, Ayurveda cautions us to avoid cooking with honey! Yes, you'll find an argument about this online, but Ayurveda has long held that eating cooked honey will cause toxins to form in the gut. It drives me a little batty to see all the packaged baked goods in grocery and gourmet stores marketed as a health food because they're "baked with honey!"
In this dish, the honey goes on top of the pancakes. In this way it becomes only a little warm—which is OK.
Shana Tova! Happy New Year!
 As Jewish communities enter these days of awe and reflection between Rosh Hashanah and Yom Kippur, we are reminded that we are the ones responsible for creating sweetness in life through our actions, words, and deeds. We are invited to forgive others for their imperfections—and to forgive ourselves as well. To me, this is the sweetest part of celebrating the Jewish New Year. As we eat our apples and honey this week, let it be a prayer and an offering of love to one another.
L'shanah tovah tikatevu. "May you be inscribed and sealed [in the Book of Life] for a good year."
Print