Mung Bean Soup for a Post-Halloween Detox!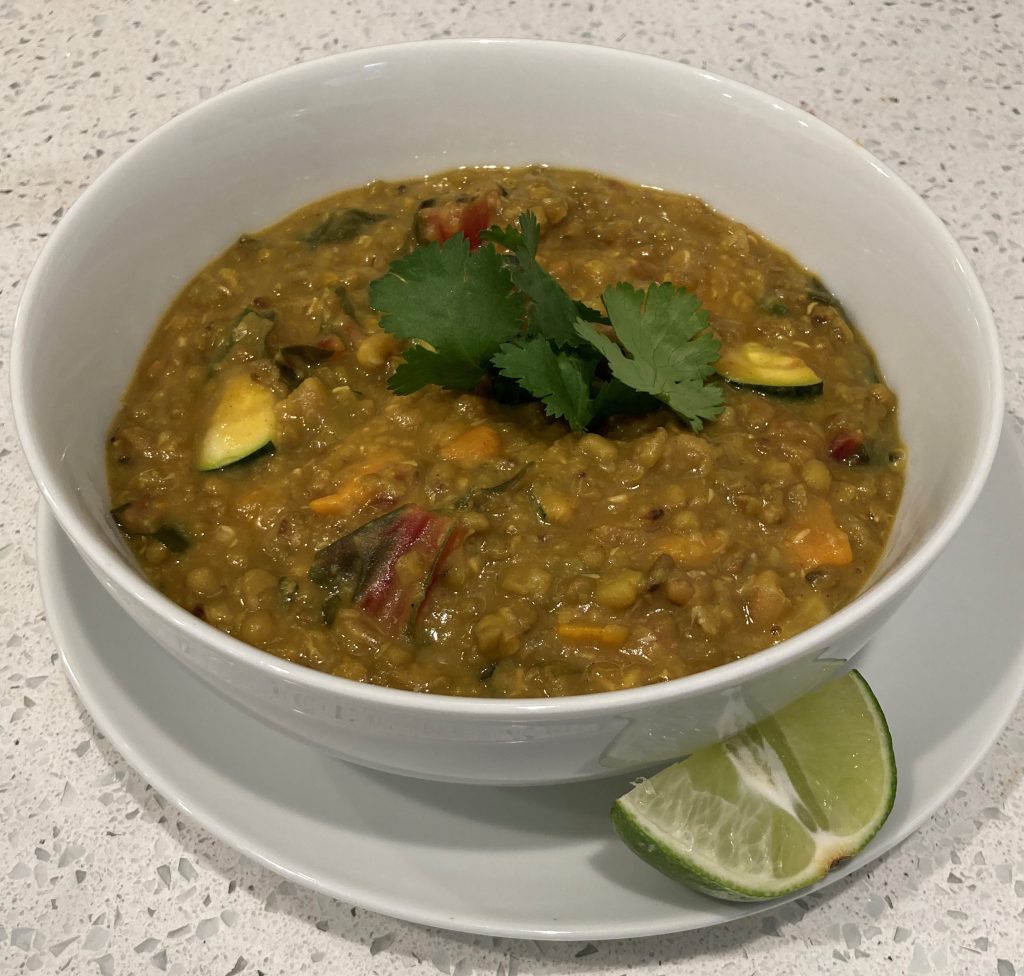 2022 Update
I first wrote this recipe for a slow cooker because that's most convenient cooking mode for many cooks who work outside the home. That was before the advent of the Instant Pot, which can also be scheduled to cook before you get home. I've switched to cooking mung soup in my Instant Pot on the "chili/beans" setting. Or in my traditional pressure cooker, which I'm equally comfortable using. Tip: I haven't tried cooking beans in the slow cooker mode in the Instant Pot, as one friend told me that she found it less than satisfactory. We want our beans well cooked for ease of digestion! Also, pressure cooking has been found to be the most effective way of neutralizing lectins when cooking beans.
If you or your kids plan to eat a lot of Halloween candy, then I highly recommend that you plan a pot of Mung Soup with Vegetables for the day after! According to Ayurveda, mung beans are one of the healthiest foods on the planet and the greatest source of vegetarian protein, because they're so easy to digest. This soup is made from whole mung beans, which have a scraping action. Translation: eating cooked mung beans will detoxify the body, specifically the colon, liver, kidneys, and the lymph system.
You can make a simple mung soup with a few spices and serve it with vegetable sides or, as I do, you can cook the soup with vegetables to make it a heartier dish. My preferences are Swiss chard and winter squash or a combination of chard, sweet potatoes, and zucchini.
If you use a slow cooker, there are, however, a few tricks that make a Crockpot® meal worth savoring. Instead of loading all the ingredients at the beginning of the cooking time—whether that's before you go to bed or before you leave for work—save a few specific steps for the last hour of cooking:
Warm powdered spices such as cumin, coriander, and turmeric in ghee or oil on your stove top and add them to the slow cooker about 15 minutes before serving. (If you leave spices in the cooker for 6 to 8 hours, they can actually burn … says the voice of experience.)
Also add any fresh herbs in the last 15 minutes.
Steam any vegetables 10 to 15 minutes before finishing the soup—and, to add to the flavor, you can do this with salt, ginger, and (optional) garlic. If you prefer, you can add greens such as kale or chard, in the beginning. Other vegetables, particularly squash or sweet potatoes, tend to get too mushy if cooked all day.
If you're adding chopped onion, about 30 minutes before serving slowly brown the onion in ghee or oil until it caramelizes. (If you use shallots instead, they will brown in 10 minutes.) This additional step will infuse your final dish with a layer of flavor that you just won't get by cooking onion in water or stock all day.
You can apply these tips when you cook this hearty mung soup recipe. If you prefer, and if you have the extra time at home needed to cook the beans in a pressure cooker, Instant Pot, or regular soup pot, you can make this as a one-pot dish. I make this hearty soup once a week on an ongoing basis because it helps to keep the digestive system clear. When mung soup is served during panchakarma (Ayurvedic detoxification) programs, it's very simple: cooked mung beans, salt, bay leaf and a few spices. When I'm cooking at home, I sometimes add onions for extra flavor and I often add vegetables for a more substantial dish. It's a thick soup so it may suffice for your meal, or you can serve it over quinoa or rice.
Enjoy this Mung Soup recipe every time you need an easy meal…or an easy detox!
Print