Gluten-Free & Guilt-Free Cookies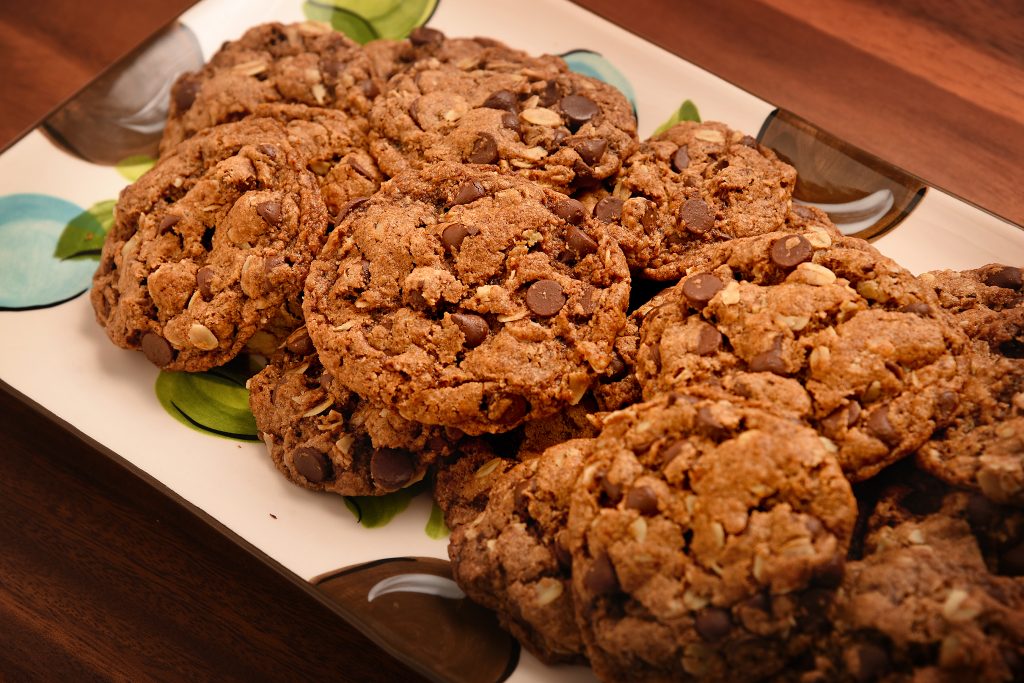 Nothing pleases better than a batch of chocolate chip cookies but there is one requirement—they have to be yummy, even when they're gluten-free!  This recipe is also egg- and dairy-free. Switch from ghee to coconut oil and you'll have a batch of vegan cookies.
Whenever I develop dessert recipes, I always have a health goal in mind: minimize the damage! While many people can eat sweets without a problem, I easily get the sugar blues so I avoid super-sweet renditions of favorite comfort foods. Even so, I get rave reviews when I serve these cookies, but you can add more sugar if you like!I bake successfully with coconut sugar, which has a lower glycemic index than most sweeteners.  With coconut sugar I find that I'm able to avoid the post-dessert energy crash—that is, when I follow my own advice and eat a modest portion! I prefer the 69% Enjoy Life Dark Chocolate Morsels because I love the taste of very dark chocolate. I also like the fact that dark chocolate means less refined sugar. (Semi-sweet chips  range from 35 to 50% chocolate liquor.)
I like to add some almond flour to my mixture  so that there is some nutritional value along with the sugar, but if you're baking for a group it's wise to list ingredients for anyone with nut allergies. You can switch to all oat flour, or use half oat flour and half King Arthur Gluten-Free mix. I used to bake exclusively with this mix, as it's a great product, but I started looking for ways to bake that are less high-carb.
If you like the taste of cardamom, please try the optional cardamom suggested in the recipe at least once!  I was in a class taught by Dr. Vasant Lad when he said, "Cardamom is the antidote for chocolate." In other words, it helps ameliorate the problems that are caused by chocolate's qualities.
This recipe doesn't require eggs, which is a plus for many people who follow an Ayurvedic way of life and prefer to avoid eggs. And if you want to add an egg to the dough, you'll have some additional protein to balance the carbs.