A 21-Day Master Class Series
If you experience low energy, chronic pain, or digestive problems, you may not realize that your body is crying out for an effective detoxification program. Just like your body needs rest each day to recharge, your digestion needs a rest at least once a year—and more often may be even better.
CONSIDER THESE SYMPTOMS
Do you experience frequent indigestion or gas and bloating?
Do you have asthma, allergies, or frequent colds?
Do you experience low energy, frequent fatigue, or brain fog?
Are you tired of chronic pain?
Do you need encouragement to help you break old habits that sabotage your health?
If you said "yes" to any of these questions, a gentle and delicious detox is calling out your name!
With the Delicious Detox, you will take an important step toward vibrant health—and you will never go hungry while participating in this program!
The 21-Day Delicious Detox Challenge was a life-changing experience. The food was delicious, and I feel better than I have in decades! My suffering with severe indigestion and constipation is gone. Making wise decisions about what I eat is having a profound and positive impact on my wellbeing. The entire course was so uplifting!
~ Marie I., Portland, OR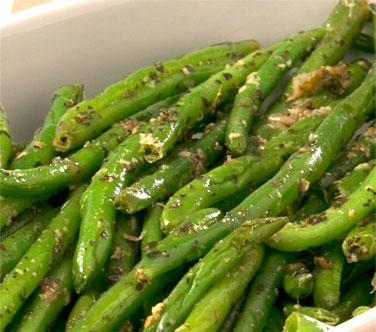 Elegant Green Beans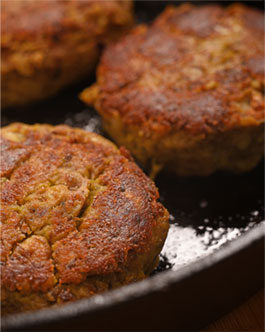 Mung Burgers
WHY DETOX?
Scientific research confirms that inflammation is the likely source of many debilitating health problems, including asthma, heart disease, diabetes, dementia and Alzheimer's as well as chronic pain. More than five thousand years ago, the ancient medical and wellness system of India, Ayurveda, recognized that undigested food leads to the build-up of toxins in the colon. It is these toxins that create inflammation, which can spread throughout the body.
As we mentioned earlier, your digestion needs a regular rest—preferably three or four times a year.
So, what does it mean to rest the digestion?
Think of it this way: Your digestive tract can become clogged by junk foods, heavy foods—such as red meat, hard cheese, pizza, and fried foods—or just too much food. When this happens, your digestive system becomes like the pipes that carry out waste in your home. The food gets stuck; it literally starts to putrefy in your gut. Undigested food becomes toxic in your body, causing gas, bloating, and inflammation throughout your entire system.
How do you correct such a condition? When you make a point of eating pure, freshly cooked foods that are easy to digest, your digestive organs no longer have to work so hard. Your entire system gets a rest! Then your body can more easily release toxins, and this lowers inflammation. Equally important, a detox can recharge your metabolism and decrease cravings for harmful foods.
You can do this simply as part of your everyday diet with the professional help and expertise provided during the Delicious Detox!
Are you ready to recharge and embrace vibrant health? Take the 21-day Delicious Detox challenge!
Register Now
Although I came to the Delicious Detox as an Ayurvedic practitioner and long-time yoga instructor, this detox was life changing! The joint pain I thought was normal has gone away. In addition, I no longer feel bloated after a meal or have any digestive issues. The food is truly delicious, and the support and education are first class.
~ Reuben S., Raleigh, NC

My entire relationship with food has changed since participating in the 21-Day Delicious Detox Challenge! The detox program attuned me to being more discerning about the foods that support my health. I'm thrilled that my chronic knee pain disappeared, and I've experienced some measurable changes such as lower blood pressure! My sinus congestion improved, and I no longer suffer from heartburn and acid reflux.
~ Linda L., Indian Wells, CA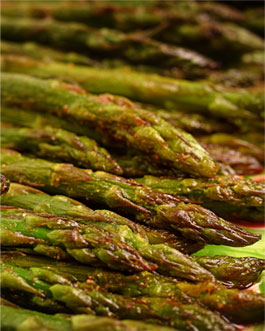 Sautéed Asparagus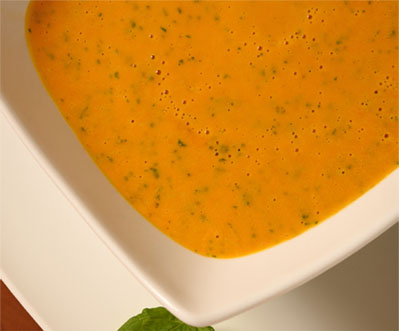 Carrot Soup
YOUR PROFESSIONAL SUPPORT TEAM
Facilitating detoxification programs is one of the pillars of Ayurveda, which now has thousands of practitioners worldwide. Dr. Tom Mitchell, a chiropractic physician trained in functional medicine, has practiced Ayurveda since 2000. Dr. Mitchell has studied with the world-renowned Ayurvedic physicians Dr. Smita Naram and Dr. Pankaj Naram.
Dr. Smita Naram and Dr. Tom Mitchell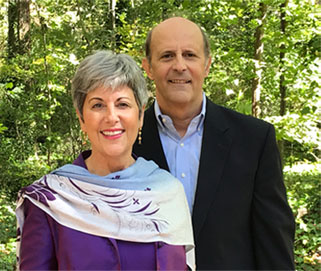 Lisa Joy Mitchell and Dr. Tom Mitchell
After engaging with the Ayurvedic approach to detoxification and an anti-inflammatory diet, Dr. Mitchell's patients report feeling significantly better in multiple ways! Those who were dealing with pain reported that their pain diminished dramatically. Everyone said they had renewed energy, improved digestion, and greater enthusiasm for life. And patients who are overweight often find that they naturally lose 5 to 10 pounds over the course of three weeks. Patients who have continued the program for three or four months have often experienced weight loss of 20 to 40 pounds!
You, too, can do this with the support offered through the Delicious Detox program! And you'll do it with the help of delicious recipes developed by the award-winning cookbook author, Lisa Joy Mitchell, whose Sacred & Delicious: A Modern Ayurvedic Cookbook was published in 2018.
Are you ready to recharge and embrace vibrant health? Take the 21-day Delicious Detox challenge!
Register Now
I'm so happy that I made time to participate in the Delicious Detox! The 21 days not only gave us a chance to get comfortable with the program and how we were feeling, but also offered an opportunity to form some new healthy habits. After 21 days, I'm feeling great! Since we started, I've lost just under 8 pounds and several inches. My mind is clearer, and my attitude is better. The mung soup is delicious!
~ Terri W., Raleigh

Dr. Tom Mitchell and Lisa Mitchell inspired us to be our best selves with kindness, humor, gentle nudging, and quick support throughout the 21-Day Delicious Detox Challenge. My size 14/16 jeans have been replaced by size 12! Most exciting, my fasting blood sugar has come down dramatically.
~ Phyllis R., Los Osos, CA
THE DELICIOUS DETOX WEBINAR IS NOT INTENDED FOR THE PURPOSE OF PROVIDING MEDICAL ADVICE. All information, content, and material is for informational purposes only and is not intended to serve as a substitute for the consultation, dignosis, and/or medical treatment of a qualified physician or healthcare provider. The information supplied through webinars or on our webpage, or by any representative or agent of Mitchell Chiropractic Healing Center, whether by telephone, email, letter, facsimile or other form of communication, is for informational purposes only and does not constitute medical, legal or other professional advice. Health-related information provided through this webinar or website is not a substitute for medical advice and should not be used to diagnose or treat health problems. The information on this website may be presented in conclusory, shorthand or summary form and is not intended to replace medical advice provided by your own physician or other healthcare provider. The receipt of any questions or feedback that you submit does not create a professional relationship and does not create any privacy interests.
Are you ready to recharge and take the next step to embrace vibrant health? As a participant in the Delicious Detox: 21-day challenge, you will be guided to eat the right kind of foods—foods that give your digestion a rest as part of your daily diet. Delicious Detox is led by an experienced health care practitioner, Dr. Tom Mitchell, a chiropractic physician trained in functional medicine. Dr. Mitchell has practiced Ayurveda since 2000. He will be joined by Lisa Joy Mitchell, author of Sacred & Delicious: A Modern Ayurvedic Cookbook, winner of five national book industry awards. (Read about Dr. Mitchell and Lisa) Benefits of the Delicious Detox
Reduced inflammation
Improved digestion
Improved energy, enthusiasm and stamina
Pain reduction
Recharged metabolism and weight loss
Reduced congestion
Improved immunity
Greater mental clarity
Support for lasting dietary change, one step at a time.
A Program Overview
An effective three-week program that supports gradual detoxification at home as part of your regular daily diet
Four live 1-hour online master classes, one per week (also available on recording)
Private Facebook group for daily tips, guidance, recipes, success stories, and answers to your questions
Sacred & Delicious Food List
Recipe Starter Kit, an excerpt from Sacred & Delicious: A Modern Ayurvedic Cookbook plus new recipes. All delicious dishes that delight the senses!
Grocery shopping list
Program Schedule
Free Master Class: Why Detox?
This 25-minute video offers an introduction to how you can naturally reduce chronic pain, slow aging, and regain vitality!
TUESDAYS, 7 p.m. EDT/4 p.m. PDT March 22, March 29, April 5, April 12
TUESDAYS, 7 p.m. EDT/4 p.m. PDT October 11, October 18, October 25, November 1
All of these benefits are offered at a remarkably low price—an exceptional value for the amount of expertise and guidance you will receive during your Delicious Detox experience!
Levels of Participation
Note: Purchases will link to the Mitchell Chiropractic Healing Center website Level 1: Three-week group participation as described in the program overview.
Level 2: Three-week group participation as described in the program overview PLUS a Detox Supplement Package. The supplements included in the Level 2 Detox Package are targeted to support the normal detoxification processes of the liver, kidney, and digestive tract. Free shipping.
Level 3: Includes three-week group participation as described in the program overview PLUS a 45-minute personal health consultation with Dr. Tom Mitchell (in-person or via Zoom). Dr. Mitchell may recommend supplements, which are optional. The cost of supplements will vary. Free shipping for all orders of $75 or more.