Three Asparagus Dishes Beckon Spring to Stay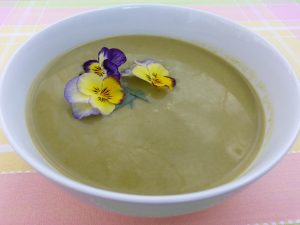 Despite the dismal weekend forecast, organic asparagus are popping up everywhere in gardens and stores, so what better time to make a steaming pot of Easy Asparagus Soup!
Springtime in the South is such a tease:  it's 80 degrees in February, and then in April it snows. Or as anticipated on Saturday, there will be rain all day, keeping everyone inside during the first full weekend of April, and then the overnight temperature will dip to a wretched 32. Be strong, beautiful azaleas!
As the days warm up into the 80s here next weekend (and as cities further north and west will at least have a brief respite in the 50s), you might want to try a gluten-free Asparagus Pilaf with Quinoa or Millet or some Quick Sautéed Asparagus.
Enjoy these reprised recipes. In partnership with my publisher, I've been working full-time to finish production on my gorgeous new cookbook! I'll be back with another spring recipe this month, so stay tuned.