Spring Delight: Asparagus Pilaf
It's still spring so I'm not quite done with asaparagus! I present to you asparagus pilaf cooked two ways, both gluten-free.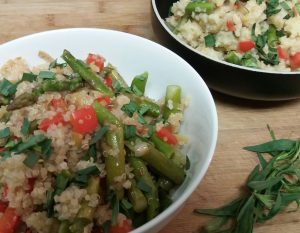 I've tried this recipe with quinoa and millet. Each dish is satisfying enough for a light meal, while they both work well as appetizing side dishes.
This pilaf is a colorful addition to the Passover table or Easter celebration. And a happy invitation to my observant Jewish readers—no guilt necessary! The rabbis have given their blessings to quinoa during Passover, and millet may not be far behind.
Quinoa is the darling of health-conscious foodies because it's a plant-based food with complete protein, and it feels so very light in the body. However, this same light quality can make quinoa hard to digest, especially for people with vata disorders. For that reason, I sampled the same dish using millet, which has a similar profile minus the amino acid lysine but can be easier to digest. Cooked millet reminds me of grits, both in taste and texture, and if you add another cup of water, it will be similar to polenta.
Enjoy this simple Asparagus Pilaf some time soon while the local asparagus are still filling spring markets!
Print