Warm Up with Winter Soups and Diverse Spices
Baby, it's cold outside for Southerners — and it's the perfect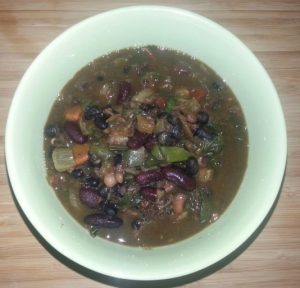 time for cooking something hot and hearty like a flavorful Italian bean soup with greens and sun-dried tomatoes. Twenty-eight degrees and freezing rain pelted the Raleigh/Durham area and much of the East Coast Friday, and it's snowing again today as I write. No complaints here, though. Grateful for our good fortune to still have power, I have taken pleasure in creating an updated version of a familiar bean soup. (Yes, we have an electric stove, which can be a handicap during winter ice storms, so switching to gas is definitely in the plans for our kitchen update.)
Once it became time to add seasoning, I started with common Indian spices for extra flavor since I didn't have any fresh vegetable stock. Cumin, coriander and turmeric give added depth to vegetarian dishes that might otherwise taste ordinary, with the added benefit of proven healing qualities. But I didn't intend to serve an Indian-style meal, so I added a second layer of flavor at the end of the recipe with fresh basil and oregano. I know this combination is not common practice in most kitchens, but it is in mine… and it's culinary magic!
Use any kind of dried legumes that you have on hand. I made this pot with 1 cup of dried black beans, 1/2 cup kidney beans, 1/2 cup navy beans, and 1/2 cup of black-eyed peas. You can easily make this soup in an hour, especially if you soak the beans overnight. But I hadn't thought ahead so I simmered the beans in a pot for about two hours since I had the time. Cooking legumes until they are quite tender is one key to making them easier to digest. A second strategy for digesting legumes is to cook with plenty of fresh ginger, a pinch or two of asafoetida and/or fresh garlic.
This recipe is also ideal for a slow cooker: just let the beans cook all day with some extra water. If you do use a slow cooker, I recommend saving the onion to sauté in a pan with spices, which will give the soup (or stew) a richer flavor. Whenever I make any dish that calls for an onion, I start the recipe by dicing the onion and sautéing it in a separate pan in ghee or oil. Start the pan on medium heat for about 10 minutes until the onions turn golden. Then reduce the heat to medium-low for 20 minutes or longer while working on the rest of the recipe, so that the onions can slowly caramelize and become sweet. Add ground spices with a little water to the onions once they are browned; then pour the whole mixture back into the soup before serving. This one simple technique can make almost any recipe particularly delectable.
If you prefer a stew, start with two cups less water, and if you wish, thicken the gravy with a tablespoon of arrowroot or corn starch at the end. (Spoon the thickening agent into a small bowl. Pour some hot liquid over the thickener, and whisk until smooth; then add the thickener back to the pot.)
You can serve this over any type of rice, though I prefer basmati, brown or white. Or just serve it straight up.
Stay warm, my friends, with a hot bowl of Italian bean soup with greens and sun-dried tomatoes!