Slow Cooker Mung Soup with Vegetables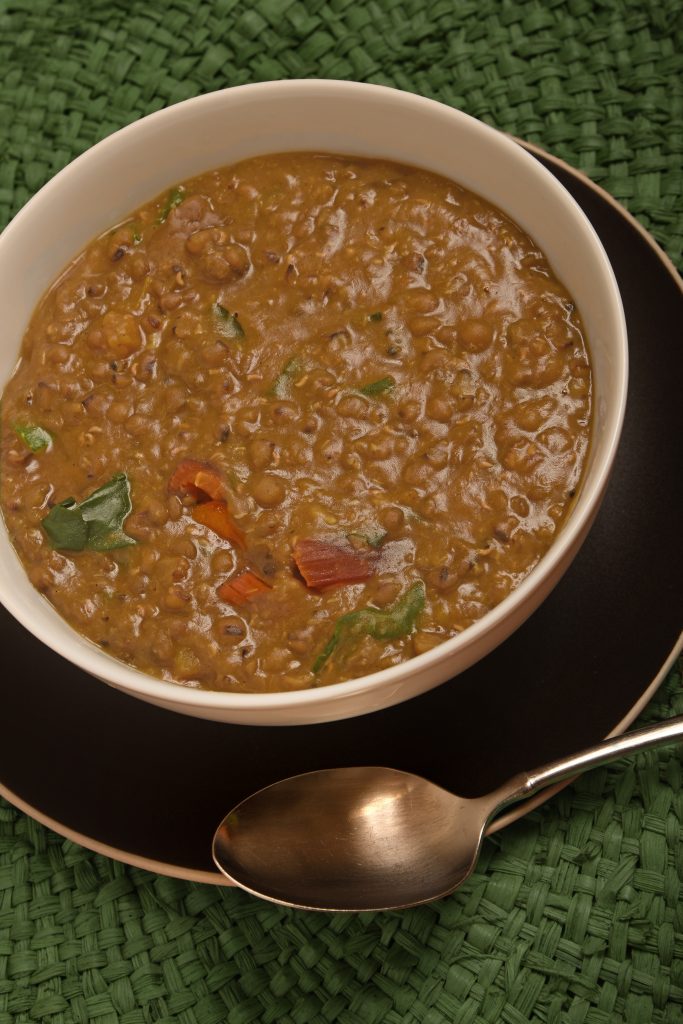 Even though it was 84 degrees in parts of North Carolina this week, the word is out that the North winds are headed our way.  By the weekend much of the country will be under the spell of an autumn chill. What better time to pull out the slow cooker and start a lovely pot of soup? (In case you're not familiar with the term "slow cooker," you may know of it by the original manufacturer's name: Crockpot® or the new hit, Instant Pot.
A slow cooker can be invaluable for vegetarians and omnivores alike, but it helps to know a few tricks that make a  slow cooker meal worth savoring.
Instead of loading all of the ingredients into the cooker before bedtime (or in the morning before leaving for work), save the real flavor-makers for when you get home:
1. Sauté dried spices such as cumin, coriander and turmeric in ghee or oil on your stove-top before adding these ingredients to the slow cooker. If you leave spices in the cooker for 6 to 8 hours, they can actually burn … says the voice of experience.
2. If you cook soups and stews with onions, slowly brown the onions in ghee or oil until they caramelize (20 to 30 minutes). This additional step will infuse your final dish with a layer of flavor that you just won't get by cooking onions in water or stock all day.
3. Add fresh herbs the last 15 minutes before serving so that they don't over-cook.
4. To keep vegetables flavorful, steam them 10 to 15 minutes before finishing the soup with salt, ginger and garlic, if you eat garlic.
So, you may ask,  what DO you leave in a slow cooker all night or day?  Legumes!
You can apply these tips when you cook this hearty mung soup recipe, a gussied up version of the classic Ayurvedic dish. I make this hearty dish once a week on an ongoing basis because it helps to keep the digestive system clear.  When mung soup is served during panchakarma (Ayurvedic detoxification) programs, it's very simple: cooked mung beans, salt, bay leaf and a few spices.  That describes the base of my soup recipe, one I modeled after a recipe I learned from Dr. Smita Naram, a renowned Ayurvedic pulse master, a pharmacologist and… an excellent cook! She created many delicious recipes  for a successful restaurant in the panchakarma clinic she founded with her husband, Pankaj Naram, outside Mumbai, India.
When I'm cooking for our regular diet at home,  I like to add onions for extra flavor and vegetables for a more substantial dish. It's a thick soup so it may suffice for your meal, or you can serve it over quinoa or rice.
With Halloween approaching this evening, it's a great idea to make a batch of mung soup this weekend — particularly if you or your kids eat too much Halloween candy!
Happy eating!

Print