SACRED & DELICIOUS
Food • Health • Spirituality
A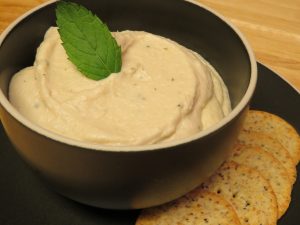 few days ago my husband, Tom, walked into the kitchen and asked if we had any white beans. I thought What on earth for? and then, more politely, asked, "Why?"
"Thought I'd make some white bean hummus." He smiled and assured me he'd get it started after golf, despite a 2:00 p.m. tee time. Although he has created some great dishes, this was not going to happen, I knew.
I said, "What if I make it instead?" Ask and ye shall receive! I must say, though, that it Read More
I tasted this scrumptious cauliflower dish at The Well Fed Community Garden in Raleigh in late May when Arthur Gordon, of Irregardless Cafe fame, created the dish on the spot! He gathered up whatever looked fresh and interesting at the farmer's market along with herbs growing in the community garden and—voila!—came up with this amazing dish! I've adapted it only slightly to serve eight instead of eighteen and made it a tad milder so it doesn't bring on more heat in this sweltering summer.
The complete dish is a cauliflower "steak" that is rubbed down with a mixture of fresh herbs, roasted or sautéed, and topped with a red pepper cashew sauce. The first time I made this myself, I ran out of time and served only the first part of the dish, pictured here— Read More
With temperatures already in the upper 90s and above across the southern half of the country, we can expect a long, hot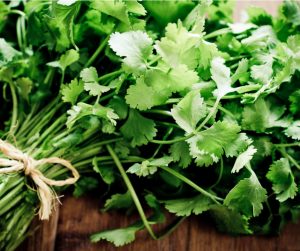 summer. Fortunately, Ayurveda has some excellent tips to help keep your body, mind, and emotions in balance—even in scorching heat!
According to Ayurveda, pitta—the dynamic principle of heat—is necessary to maintain life, but during the summer when our bodies can easily become overheated, pitta gets out of balance. Too much heat can trigger a host of physical problems, including acne, headaches, and hyperacidity. If you wake up at three or four in the morning and can't fall back to sleep for an hour or longer, Ayurveda says it's a sign of excess heat in the body. Read More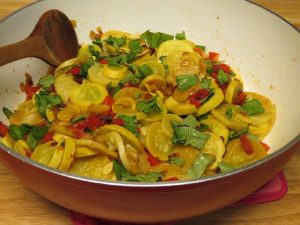 Long before the June solstice, summer is heralded by Memorial Day, picnics, backyard barbecues, and abundant yellow crookneck squash. This colorful squash dish with red bell pepper and fresh basil or dill (suit yourself) is great for summer entertaining, and it travels well to a potluck.
I tasted something like this dish once at a potluck supper way back, and of course, since I live in the South, it would have been smothered with cheese. I think this dish proves the winning possibility of creating a casserole without cheese that everyone will still love — Read More
You may recall that I promised a new asparagus recipe still in its gestation period. Today I'm delivering it: Vegan
Asparagus Wraps. What I love most about these wraps is that, in my humble opinion, they fit into the category of fun foods. Children (or adults) who say they don't like vegetables may just try something new if it looks like it might be fun to eat—and anything in a wrap looks like it's hiding a secret treasure.
Cook the asparagus until just tender, and you'll hear a crunch with every bite, which creates a pleasure sensation. Crunchy food involves all five senses—you see it, smell it, touch it, taste it, and hear it—amplifying the pleasure explosion in your mouth. (For this reason, I suggest that you buy stalks of a medium thickness rather than the pencil-thin spears, which can Read More
Despite the dismal weekend forecast, organic asparagus are popping up everywhere in gardens and stores, so what better time to make a steaming pot of Easy Asparagus Soup!
Springtime in the South is such a tease:  it's 80 degrees in February, and then in April it snows. Or as anticipated on Saturday, there will be rain all day, keeping everyone inside during the first full weekend of April, and then the overnight temperature will dip to a wretched 32. Be strong, beautiful azaleas!
As the days warm up into the 80s here next weekend (and as cities further north and west will at least have a brief respite in the 50s), you might want to try a gluten-free Asparagus Pilaf with Quinoa or Millet or some Quick Sautéed Asparagus.
Enjoy these reprised recipes. In partnership with my publisher, I've been working full-time to finish production on my gorgeous new cookbook! I'll be back with another spring recipe this month, so stay tuned.

Lisa J. Mitchell
If you love dark chocolate and want to splurge a little for Valentine's Day, do I have a treat for you and your beloved—perhaps the fudgiest brownies you've ever tasted! From a health perspective, the good news is that these are not outrageously sweet compared to standard fare, even though I'm told they are sufficiently decadent to stir the passions of any chocolate lover.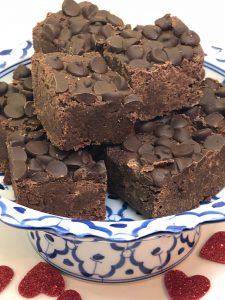 First, let me acknowledge what may be obvious to many readers: chocolate, fudge, and brownies are not part of ancient Ayurvedic cuisine. Nonetheless, I believe in adding some flexibility to my offerings so that
people exploring Ayurveda don't feel constrained by too much austerity. As one of my Ayurvedic mentors Read More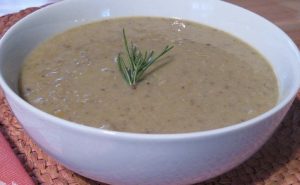 With so much cold and flu circulating in every public place at this time of year, I started eyeing the shiitake mushrooms at the grocery store today… and then invoked the Goddess Annapurna to help me create a delicious approach to mushroom soup. This Mushroom Lentil Soup is just that—a dish that's definitely for mushroom lovers, as it boasts a hearty amount of the immune-boosting shiitakes.
The neutral-flavored red lentils, also known as masoor dal, give the soup substance as well as protein and iron. I use a mixture of traditional Ayurvedic spices (cumin and coriander to balance agni) along with classic American herbs (rosemary and sage), which you might expect to find in a mushroom bisque. You can add a couple of tablespoons or more of wine if you wish—just a little adds a nice dimension to the flavor. Read More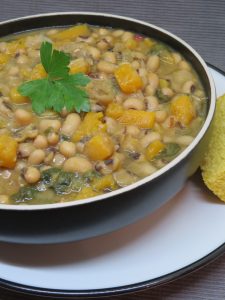 Ask any Southerner how to start the new year in the most auspicious way, and they won't even blink before naming a bowl of Hoppin' John or some other version of peas and greens—like this vegetarian Smoky Black-Eyed Pea Soup with Collards! Serving such a dish on New Year's Day is thought to bring good luck because long ago black-eyed peas reminded someone of coins. The greens are said to bring prosperity because greens are associated with green cash. If you enjoy food history, you can read more about this legend at Southern Living  and Epicurious.
My Smoky Black-Eyed Pea Soup is filling because of the generous proportion of peas, and it is made even more satisfying by the addition of butternut squash, a favorite winter vegetable. If you serve this soup over rice, like a traditional Hoppin' John, you will need little (if anything!) else at your New Year's Day table.
How can you make your New Year's Day even more auspicious? Read More